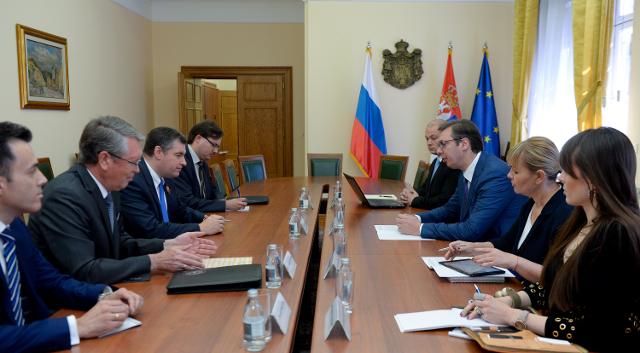 Serbian prime minister Aleksandar Vucic and the president of the international committee of the Russian Federation's State Duma Leonid Slutsky met in Belgrade today. The main focus of the discussion was the situation in the Western Balkans, the government stated in its press release today. Vucic and Slutski  expressed their concern over the so-called Greater Albania idea, stressing the danger it could pose to the regional stability.
Vucic has reiterated that his government strives for the policy that would bring peace and cooperation in the Western Balkans.
Serbia, "taking into account the economic progress it has achieved", intends to improve the economic cooperation with Russia, the premier said; Belgrade expects that the participation of Serbian ministers at the Sankt Petersburg International Economic Forum next month would be an occasion for concrete plans to be tackled, he went on.
Considering the bilateral political and economic cooperation, Vucic thanked Slutski for "understanding" which Russia shows for the position and policy of Serbia "without giving up from principled stance to respect its (Serbia's) territorial integrity". Vucic stressed that Belgrade highly appreciates Kremlin's decision not to recognize the unilaterally declared independence of Kosovo.
Slutski said that the cooperation of the two parliaments was important for bilateral links. He announced further steps in that regard. Slutski also announced that the president of the State Duma Vyatcheslav Volodin will visit Serbia next month./IBNA
Photo: B92