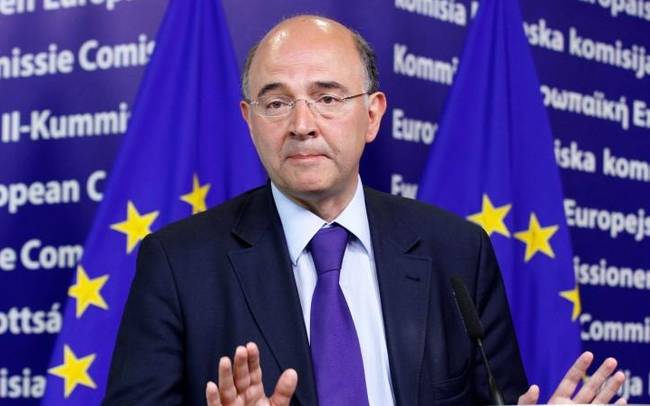 Athens, December 15, 2014/ Independent Balkan News Agency
By Lefteris Yallouros
European economic and financial affairs commissioner Pierre Moscovici is due to make an official visit to Athens on Monday during which he will meet with Prime Minister Antonis Samaras, Finance Minister Gikas Hardouvelis and Bank of Greece Governor Yannis Stournaras as well several other Greek ministers.
The visit is the first Moscovici makes to a European capital in his capacity as economic and financial affairs commissioner since taking office last month.
The symbolism of the visit is high, as Athens is currently in the middle of a political crisis which is threatening to derail Greece's reform effort in the economy following the government's decision to bring forward the presidential elections. "Solidarity of the @EU_Commission with #Greece and its people" Moscovici tweeted as he announced he will be visiting the Greek capital.
However, over the two-day visit the EU official will not be meeting with Greek main opposition party leader Alexis Tsipras. In an interview with Kathimerini, asked if he will be meeting the SYRIZA leader, the EU Commisioner responded: "No, not this time, but in the future I will have the occasion to do it and would be interested to do so. This is a working visit as a commissioner to the Greek authorities".
Asked to describe the "best – and worst -case scenarios for Greece", Moscovici said: "I always think of the best scenario and for me it is that we work closely so that after the extension, the program can be completed with reforms and we move on with an enhanced conditions credit line. That would be very positive for Europe as well and would also change the perspective, the method. We will not have the troika as it is today. I know that people in Greece want something different. We also want something different. We will have a different partnership and that is for me the best preferred scenario and that is the scenario I advocated in the last 40 days and will fight for in the months to come".
Alexis Tsipras and his party has alarmed Greece's EU allies as fears of a possible Greek exit from the Euro re-emerged should SYRIZA be elected to power.
"An operation of terror, of lies, is underway," the SYRIZA leader told supporters on Sunday. "An operation whose only aim is to sow terror among the Greek people and MPs, and to thrust the country ever deeper into the poverty and uncertainty of the memorandum," Tsipras said referring to the country's bailout program.
European Commission President Jean-Claude Juncker recently warned of the perils of the "wrong election result". "I wouldn't like extreme forces to come to power," he said of the poll's potential to trigger early general elections. "I would prefer if known faces show up" Juncker said.