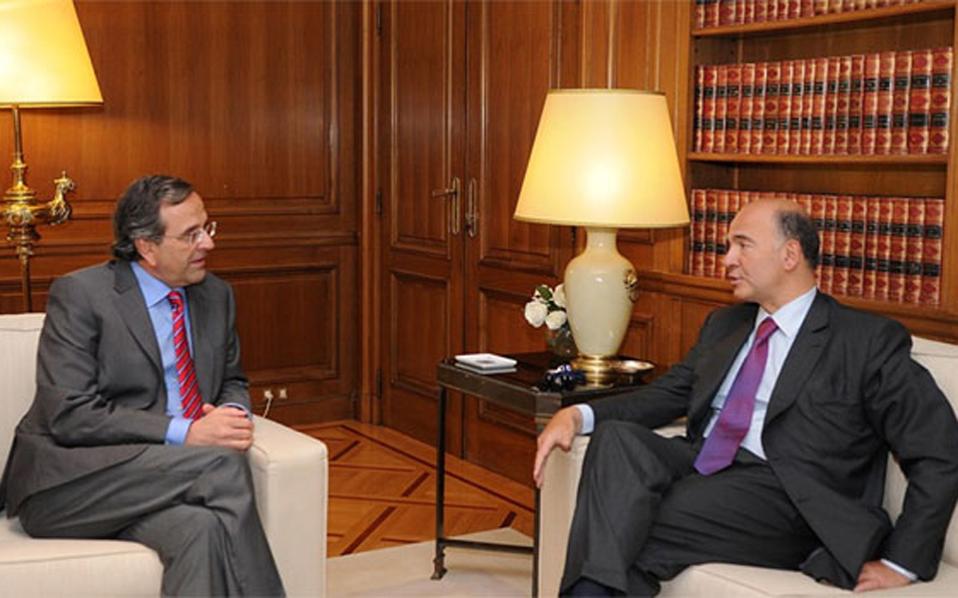 Athens, 16 December, 2014/ Independent Balkan News Agency
By Lefteris Yallouros
European Economic Affairs Commissioner Pierre Moscovici sent a message of support to the Greek government Monday, on the first of a two-day visit to Athens.
Following talks with Greek Prime Minister Antonis Samaras, Finance Minister Gikas Hardouvelis and other ministers, Moscovici told reporters: "Such effort has been made by the Greek authorities that is bearing fruit now. It is a pity not to go on".
In what is seen as a show of solidarity to Greece's coalition government, the EU official praised the country's "huge progress" while also indirectly attacking Greek main opposition party SYRIZA by stating: "Belonging to the eurozone is a matter of obligations. Contemplating the possibility of not reimbursing a huge debt is suicidal. It is not possible. It would mean default."
Moscovici did not comment on the crucial presidential vote that is due to take place Wednesday (the first round of three) in Parliament while stressing that he did not want to interfere in Greek politics.
The Commissioner also stressed the importance of "structural reforms," in Greece and elsewhere in Europe. He said he planned to contribute toward finalizing a review of Greece's reform program so that the European involvement in the country's bailout can be completed and both sides can "move to another relationship."
He did not reveal details of what a new post-bailout relationship between Greece the eurozone would entail, but noted that, apart from a European credit line currently under discussion, there could also be "a precautionary program with the IMF."
Earlier European Commission spokeswoman Mina Andreeva had stressed that Greece's membership of the eurozone remained "the only viable solution."
Furthermore, Finance Minister Gikas Hardouvelis stated Monday troika officials will arrive in Athens early January and that the Greek Finance Ministry is working towards ensuring that the troika inspection is completed by January 26.