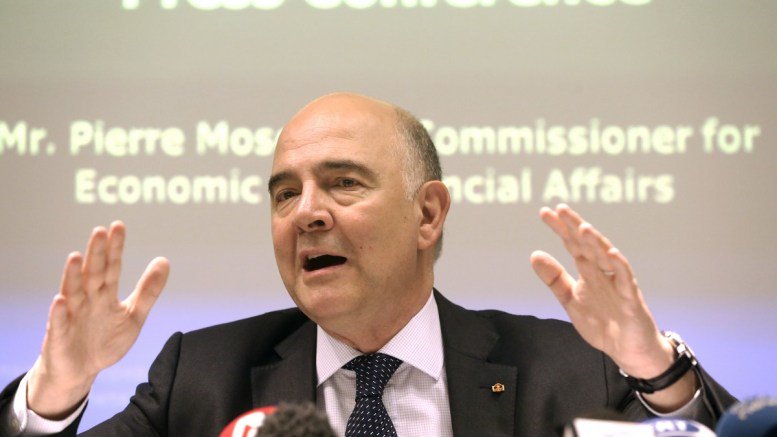 EU Economic and Financial Affairs Commissioner Pierre Moscovici appeared optimistic concerning the course of the Greek economy during a press conference at the offices of the European delegation in Athens.
"Greece can successfully complete the aid program," he stated, among other things, and praised the efforts to reduce budget deficits.
In this context, he argued that "the country is at a turning point" and admitted that "great progress has been made". "We have come a long way since 2010 and I am convinced that Greece can look forward to the future with hope and confidence", he continued.
As for the next "steps", he called on the government to continue on the same course and adhere to the reform agenda. "Greek citizens need to see concrete results," he said.
"We need to talk about the course we are going to take" he added, adding special mention to both the implementation of the agreed actions and the recovery of trust.
On the assessment, which is expected in the autumn, he made it clear that "it must be done with absolute conviction and credibility". "We need to stay on the bike and carry on", he said.
Referring to the country's exit to the markets, Mr Moscovisi spoke of a "positive development" and expressed the conviction that Greece could achieve a "reasonable interest rate".
At the same time, he also focused on the need for the International Monetary Fund to remain in the aid program, noting that the Fund "is an important partner".
Concluding, he wished for "Greece to stand on its  feet again in a year" and "to become a "regular "member of the Eurozone."
Moscovici – Pavlopoulos meeting
"We will meet our commitments and when the time comes the partners will do what they have to do on the debt issue," said Greek President Prokopis Pavlopoulos in a meeting with the EU Economic and Financial Affairs Commissioner.
On his part, Moscovici said: "We want Greece to return to normality and stay on course. You can count on us. "
Mitsotakis-Moscovici meeting
Pierre Moscovici also met with Kyriakos Mitsotakis on Tuesday morning  in his office in Parliament. According to ND sources, Mitsotakis and Moscovisi discussed all the important issues,particularly the economy and European issues./IBNA