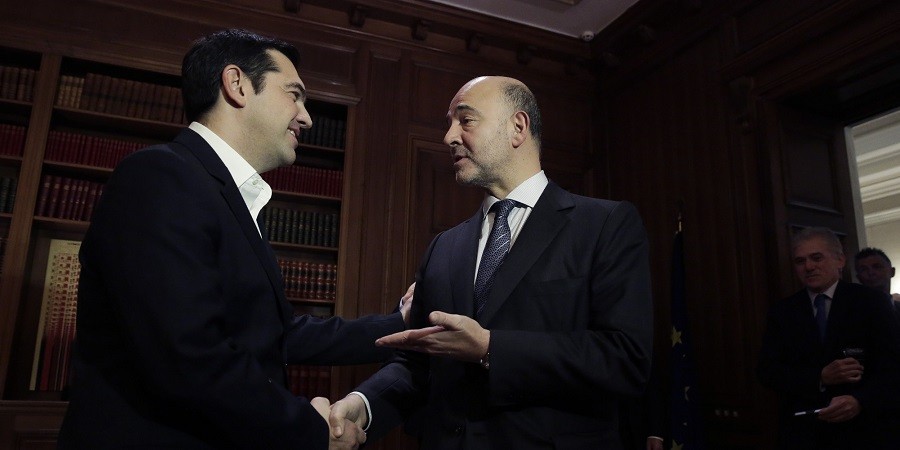 Greek Prime Minister Alexis Tsipras received a much welcome boost on Monday to his hopes of Greece being granted debt relief by its international creditors, a development most notably strongly opposed by Berlin.
During a meeting with European Financial Affairs Commissioner, Pierre Moscovici, on the Greek bailout program and economic developments in Greece, the Commissioner agreed with the Greek PM that that talks over debt relief must commence at the 5 December Eurogroup meeting.
Moscovici praised the efforts of the Greek government in tackling the economic crisis and implementing agreed reforms as part of its bailout deal, stressing that Athens is now closer to the completion of a second review of the Greek program that includes labor relations reform.
"Greece absolutely has the ability to recover and deserves our trust," he said.
The EU Commissioner had earlier urged the International Monetary Fund to return to the Greek program as a lender.
Meanwhile, European Central Bank chief, Mario Draghi, sounded an equally favorable plea for debt talks to begin. Addressing the European Parliament in Brussels on Monday, Draghi said the sustainability of Greece's debt must be ensured and current momentum could be used to work towards this goal.
Analysts point out that these latest interventions by senior EU officials are crucial at this point in Greece's negotiations with creditors over the second review of the country's latest bailout program. It is pointed out that Pierre Moscovici also pointed out that the current bailout should be the last to be implemented, ruling out then need for a fourth rescue deal.
The Greek government has come under criticism in recent weeks by opposition parties claiming that its handling of the economy will almost certainly lead to a fourth "memorandum of understanding" with its international creditors.
Alexis Tsipras told Commissioner Moscovici that "we are very close to a deal" adding that "we have already shown our will and now we expect our partners to do the same."/IBNA