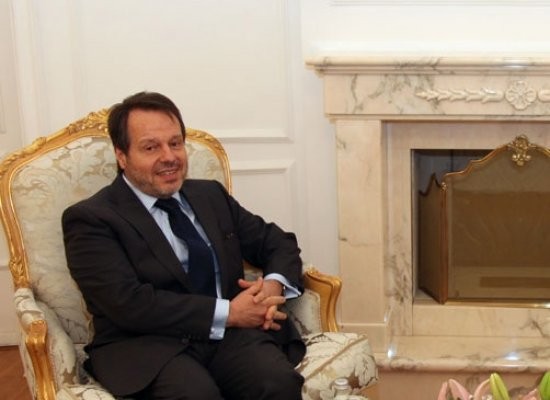 Pristina, March 19, 2014/Independent Balkan News Agency
By Elton Tota
Greek ambassador to Pristina, Dimitris Moschopoulos says that his country will recognize Kosovo when Kosovo is recognized by all the EU member countries.
In an interview given in Pristina, Mr. Moschopoulos declared that the recognition of Kosovo will be made due to the fact that it will have an effect of stability in the region.
"We're not saying that we must recognize Kosovo because it's a good state, but we must recognize Kosovo because recognition will be in the interest of peace and stability in the region", said Mr. Moschopoulos in an interview given for the daily "Koha Ditore".
He said that relations between the two countries are "very friendly".
Meanwhile, he admitted that the non recognition of the young state is a problem.
"We cannot avoid the problem relating to the non recognition of Kosovo. We have not said that we want Kosovo to access European Union. When we say that we want Kosovo in the EU, this means that we want Kosovo to be recognized by all countries of the European Union and we also want political recognitions from these member countries. Once this happens, then the recognition will take place", said the Greek diplomat.
Speaking on the decision taken by the Greek Foreign Minister for this country to lift the visa regime with Kosovo, ambassador Moschopoulos said that he doesn't believe that Shhenghen  visas will be lifted for Kosovar nationals starting from March 20, due to several procedures relating to the system that issues the visas.
"The decision has been taken last week in Greece, following the visit of the Greek Foreign Minister in Pristina on February 19, 2014. March is the date when this decision will start to be implemented, but I think that the system will not be ready on March 20", said Moschopoulos. /ibna/