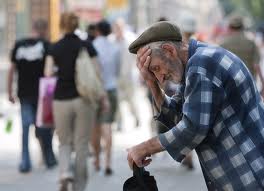 Skopje, July 1, 2013
FYR Macedonia is seeing a growth of mortality rate amongst its population.
An analysis made by "Dnevnik" newspaper offers alarming figures which indicate the growth of mortality amongst the Macedonian ethnicity. According to the statistics published for last year, there have been 14.823 deaths and 75% of the population in this category belongs to the Macedonian ethnicity.
Amongst the Albanian population there have been 3416 deaths or 16.9%. Then we have the Roma community with 2.6% and Turkish community with 2.4%.
On the other hand, birth rate has seen a fall amongst the Macedonian population. Last year there were 11.995 births amongst the Macedonian ethnicity and 8035 amongst the Albanian ethnicity. Amongst the Roma community there have been 1552 births, a high figure compared to the other minority communities.
Demography experts have expressed their concern about the fall of the birth rate and the growth of mortality amongst Macedonian population in the past few years.  "We're worried because Macedonian population is entering the category of aged population", said demography expert, Donco Gerasimovski.
According to the Authority of Statistics, the growth of population as a result of the births is taking place in the communes dominated by Albanians such as: Saraj, Cair, Tetovo, Studenican, Shutka, Struga, Kumanova, Likova, Haracina, Zhelina and Gazi Baba.
The growth of mortality and fall in birth rates is taking place in the following communes: Berove, Manastir, Gjevgjeli, Dellceva, Demir Kapi, Demir Hisar, Kavadar, Kratova, Kriva Pallanka, Krusheva, Ohrid, Pehceva, Prilep, Probishtip, Resnje, Sveti Nikola and the communes of Skopje such as Karposh and Kisela Voda. /ibna/