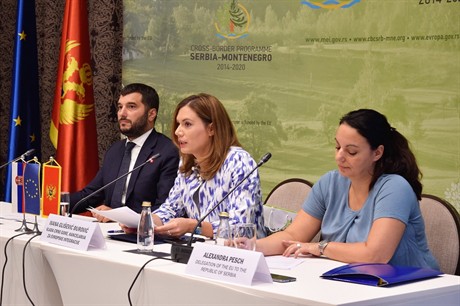 More than three million euros have been provided for cross-border projects of Montenegro and Serbia, which should contribute to strengthening the social and cultural inclusion of vulnerable groups, as well as improving the capacity to use the tourism potential of both countries, the General Secretariat of the Government announced today.
The second call for proposals under the Serbia-Montenegro Cross-Border Cooperation Program, worth EUR 3.24 million, is open until December 27.
Deputy Chief Negotiator and National IPA Coordinator for Montenegro Ivana Glišević Đurović said the Call is a continuation of successful cross-border co-operation between Montenegro and Serbia, which began in 2008, during which between 2008 and 2018, through four public calls for proposals, 43 projects contracted, totalling € 9.6 million.
"The projects have been or are still being implemented in the fields of culture, tourism, health care, economic cooperation, social inclusion, employment, environmental protection and risk prevention," Glišević Đurović said.
She noted that under the First Call, in the financial perspective 2014-2020, nine projects with a total value of EUR 2.2 million were contracted and are currently being implemented. The projects aim to improve the quality of life of the people in the area covered by the project, through stimulating employment and protecting the environment.
"The mentioned projects involve 29 partner institutions from both countries, such as municipalities, public institutions and non-governmental organizations, which carry out activities in 21 municipalities in Montenegro and Serbia. We are particularly pleased with this because it strengthens the existing ones and establishes new links between organizations and people from the two countries," Glišević Đurović said.
She hoped that interest in the Second Call would be at the level of the previous call when the value of funds requested for the proposed projects was 10 times higher than available.
Assistant Minister for European Integration of Serbia Mihajilo Dašić pointed out that the promotion of the call demonstrates in a practical way how the partnership of the governments of Serbia and Montenegro and local governments covered by the program with the European Union in the implementation of projects important to citizens works.
"Cohesion policy is one of the most important EU policies, funded by a third of the Union's common budget and which supports a large number of projects across the EU. Its main objective is to contribute to economic, social and territorial cohesion, ie to reduce inequalities between regions, and to foster sustainable development," Dašić said.
Program Manager for Cross-Border Cooperation at the Delegation of the European Union to Serbia, Alexandra Pesch, emphasized that the programs of cross-border and territorial cooperation have proven to be extremely successful. She expressed her belief that sustainable partnerships would be established within this Call and that innovative project ideas would be delivered. These ideas should deliver sustainable results for the benefit of the citizens of the border regions./ibna