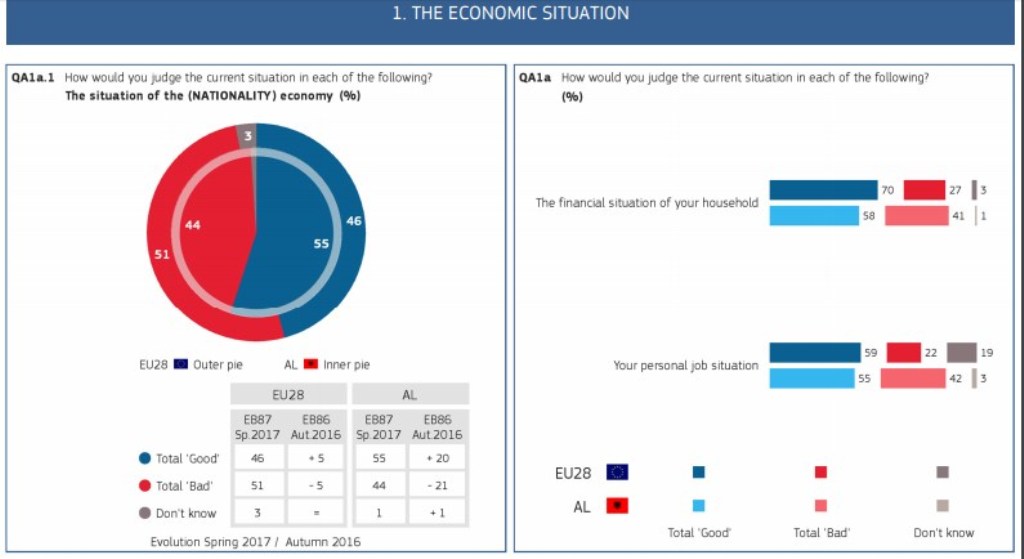 A survey carried out by Eurobarometer on behalf of the European Commission suggests on the part concerning Albania, that 55% of Albanians believe that the economic situation of the country is good.
According to the survey, 55% of Albanians believe that the economic situation of their country is generally good, 44% consider it as generally bad, while 1% have not given any opinion.
Eurobarometer has asked 1083 people during the month of May 2017, when the election campaign started.
The interviews were carried out face to face and the results were published in the official page of the European Commission.
Based on this survey, compared to autumn last year, the number of Albanians that believe the economic situation of the country to be better is 20% higher.
The survey also suggests that Albanians are even more optimistic than citizens of the EU member countries, despite the fact that their incomes are 3.3 times lower than the latter.
In the EU, 45% of the citizens consider the economic situation of their country to be good, while 51% consider it bad.
Standard Eurobarometer 87 survey (EB87), was carried out between 20 and 30 May 2017 in 34 countries or territories: the 28 European Union (EU) Member States, five candidate countries (the Former Yugoslav Republic of Macedonia, Turkey, Montenegro, Serbia and Albania) and the Turkish Cypriot Community in the part of the country that is not controlled by the government of the Republic of Cyprus.
The survey includes topics such as the European political situation and the economy (perception of the current situation and expectations for the future). It analyses how Europeans perceive their political institutions, both national governments and parliaments, the EU and its institutions as well as their main concerns.
It also examines people's attitudes on European citizenship and on issues linked to the priorities of the European Commission, notably free movement, the euro, migration and the stimulation of investment. /balkaneu.com/