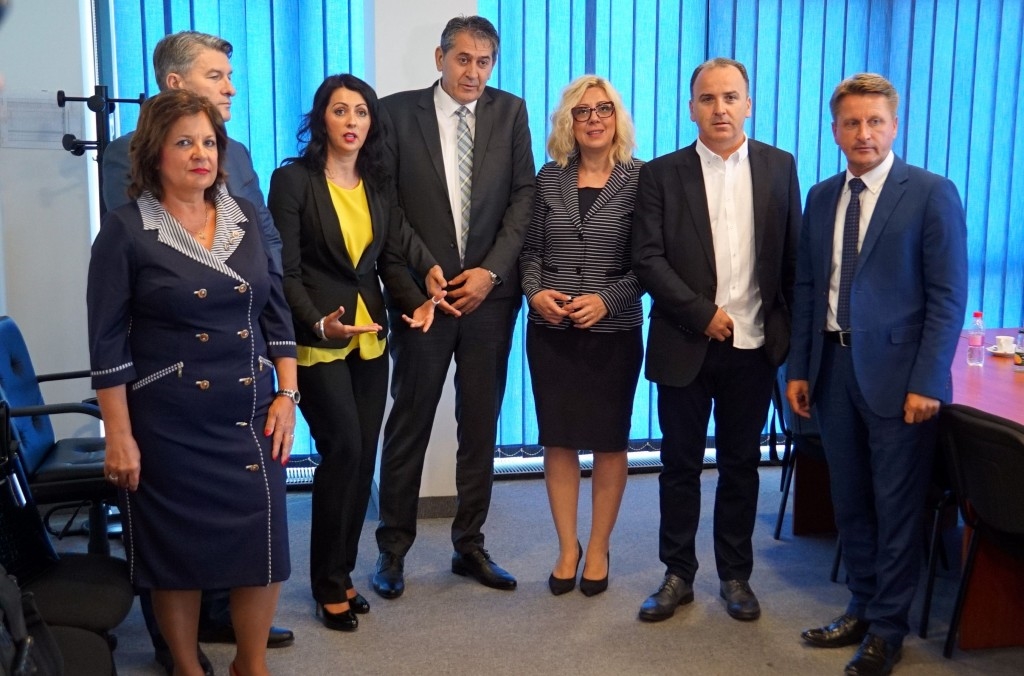 A delegation of members of the Parliamentary Assembly of Bosnia and Herzegovina (PSBiH), gathered at the Club for European Integration and Security Issues, visited the BiH Foreign Affairs Office today to discuss priorities in managing migration in BiH.
The director of the Foreign Affairs Office, Slobodan Ujić, pointed out after the meeting that all aspects of the migrant crisis were discussed, especially security issues, the number of migrants and their accommodation, and the situation in the Una-Sana Canton (USK), as well as the institutional response to the current situation.
Among other things, opinions were exchanged regarding human, material and financial resources, which need to be used to keep the situation under control, including the humanitarian aspect and changes to the legislative framework.
Referring to current indicators, Ujić reminded that 19,500 illegal migrants were registered since the beginning of the year, which is about 20 per cent more than in the same period last year, estimating that migration is still under control and that the biggest problems are present in the Una-Sana Canton, where a steady presence of 3,500 to 5,500 illegal migrants are recorded.
At the same time, about a hundred migrants are reported daily in Tuzla, which is a daily influx. When it comes to structure, about 90 per cent still relate to economic migrants between the ages of 18 and 35, mostly from Pakistan.
Ujić further said that they discussed how to 'unburden USK', including the relocation of reception centres. Answering a question regarding relations with the institutions of the Republic of Croatia regarding migration, he said that the return of migrants from Croatia to the "green belt" was discussed, without announcement and readmission, and that the Coordinating Body for Migration Issues in BiH might adopt a different position on the issue.
He added that, according to some information, Croatia received thousands of migrants from Slovenia through regular readmission, and that it is necessary to see what happened to those migrants.
Aida Baručija (Independent Bloc) MP for the BiH Parliamentary House of Representatives assessed that the visit of the delegation to the Foreign Affairs Service was one of a series of steps by parliamentarians gathered at the Club for European Integration and Security, recalling that this was preceded by visits to the USK and Border Police of BiH (GPBiH) in Trebinje, and talks with BiH Minister of Security Dragan Mektić.
She stressed that it is necessary to strengthen the control of the BiH state border to keep the migrant crisis under control./ibna