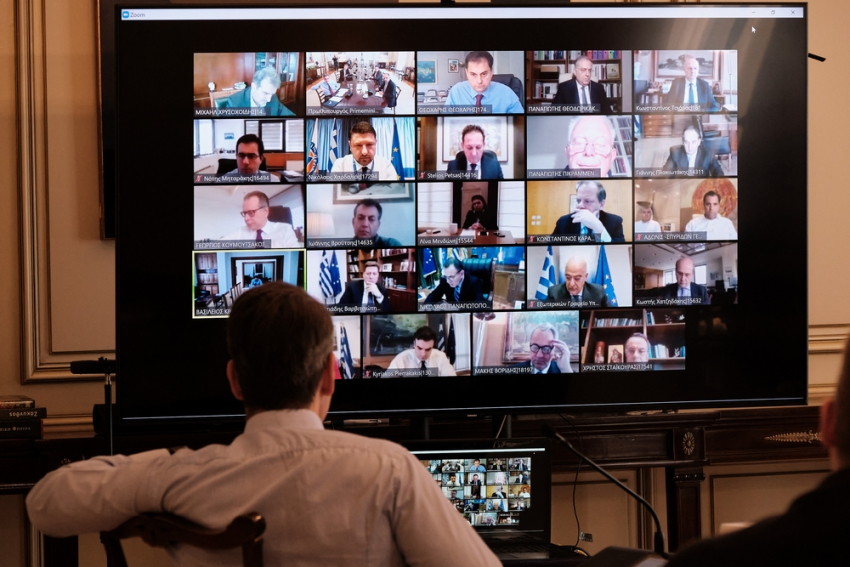 The Greek government is expected to step up efforts to support the economy from the negative effects of the coronavirus (COVID-19) pandemic.
The country's Finance Ministry is set to adopt a new set of relief and support measures to prop up businesses, jobs and households, as cabinet ministers submit proposals for each respective policy sector.
Prime Minister Kyriacos Mitsotakis chaired a cabinet meeting via teleconference on Tuesday. The premier told ministers the restrictions imposed to help stem the spread of COVID-19 "are tough" and "will certainly have an impact on economic activity".
The Ministry of Finance revised a list of businesses and sectors that will be eligible to claim support benefits and compensation, due to the nationwide lockdown and shop closures ordered in the country.
A total of 600,000 private businesses, with a monthly turnover of 8.3 billion euros and 1.2 million salaried workers are included in the list, along with 555,000 freelance professionals, self-employed and owners of small businesses.  These professionals will receive support in March.
The recently imposed emergency lockdown measures are expected to last at least until the end of April. State Minister Giorgos Gerapetritis stated this week that "it is incredibly crucial for the upcoming period, in any case until the end of April, to control the coronavirus spread".
The government's emergency economic measures aimed at supporting jobs and businesses will run at least until 30 April too.
Authorities are reportedly concerned that any relaxation of restrictions in view of the Easter holiday period may lead to soaring coronavirus cases. An eventual lifting restrictions on movement and other precautionary measures is now more likely to occur gradually, over a period of time.
On Tuesday, the Health Ministry announced 48 newly confirmed coronavirus cases in Greece, bringing the total number of people who have contracted the virus to 743. The total number of people whose lives the coronavirus has claimed is now 20, with an average age of 75./ibna