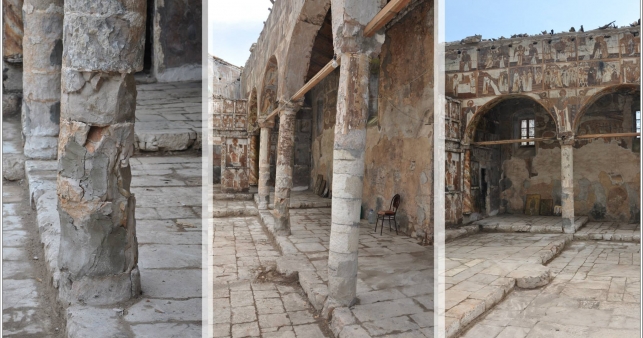 Tirana, 27 August 2015/Independent Balkan News Agency
An important part of cultural heritage monuments in Albania are being restored, especially in the south of the country.
As you can see from the photos that IBNA brings you below, the church of "Shen Spiridhon" in Vuno, is being fully restored. The project consists on reinforcing the entire structure, in the conversation of murals and the covering of the roof. This process will make the life of monumental and artistic values of the church much longer.
In the southern extreme of the village of Vuno, between the century old olive trees, is the monastery of "Shen Spiridhon" with the largest church in the village.
An inscription there says that this church was built in 1778 and was painted in 1784 with the expenses of the residents of the village.
This church is a basilica type church and it consists of the portico supported by arcades and colonnades, the central nave divided into three naves, altar and space.
The entire church preserves architectural values and is rich of mural pictures. Following the destruction that it suffered with the burning of the entire roof in 1998, this church is now being fully restored.
Other monuments of the cultural heritage which are being restored are:
Church of Ristoz, Monastery of Mesopotam, Castle of Lezha, Church of "Shen Thanas"-New Karavasta.
In the church of new Karavasta, the murals painted by the Çetirs, the known iconographs of Myzeqe, are coming to light after being forgotten for a long period of time.
The Cemetery of Rrmaj, which has the tomb of Kole Idromeno and Marubi family along with many other personalities, is also being restored.
Meanwhile, work continues for the construction of Marubi Museum in Shkoder and the Museum of Medieval Art in Korca, which will exhibit 6500 icons and 1500 objects. /ibna/