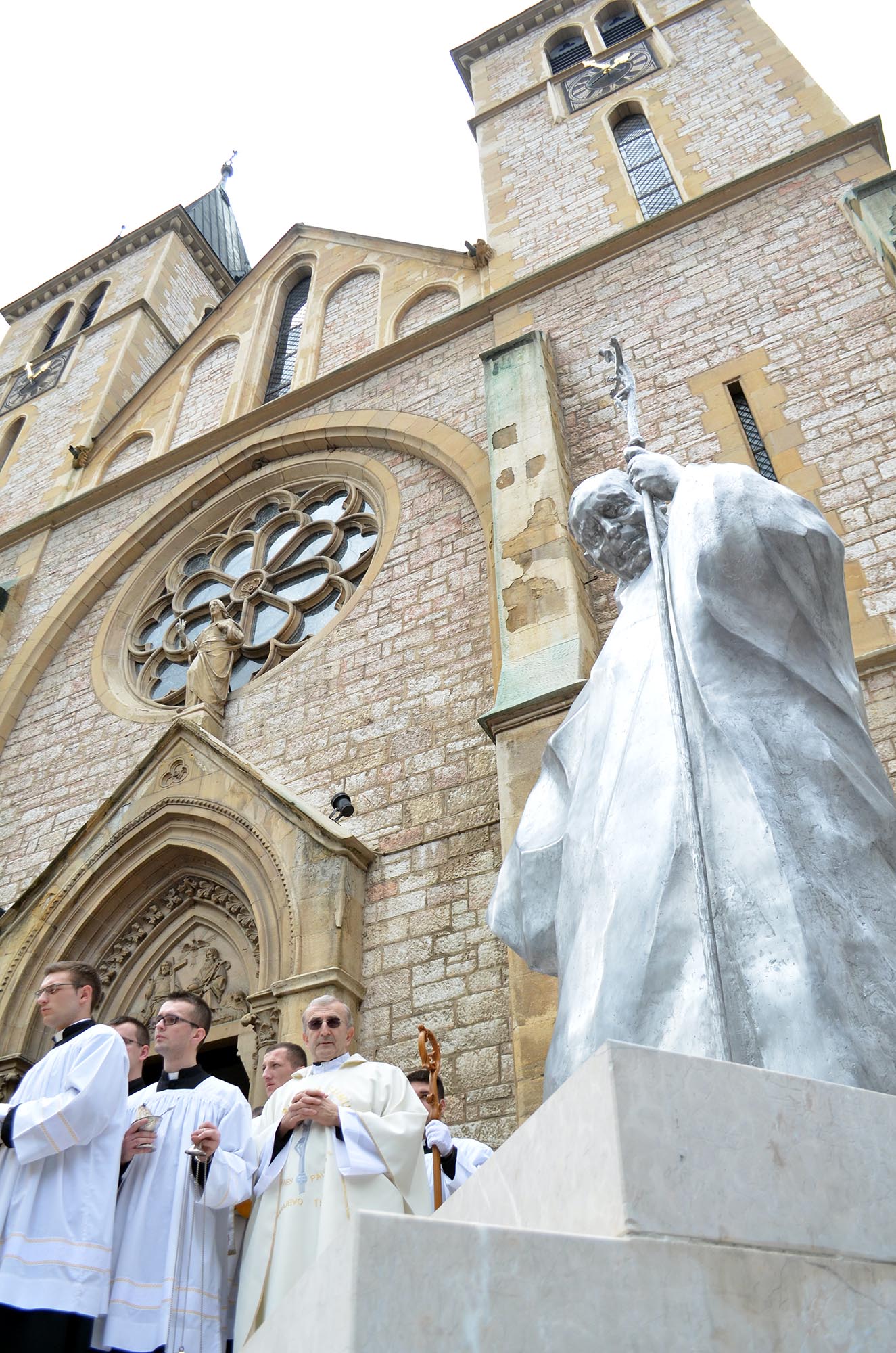 By Medina Malagic – Sarajevo
For centuries, Sarajevo, the capital city of B&H, was known for its multiculturalism and religious diversity, and has thus been labeled the 'Jerusalem of Europe'. Historically, Sarajevo was the only city in Europe to have a mosque, a Catholic Church, Orthodox Church and synagogue located on the same block, a mere stone throw away.
The siege of Sarajevo left its physical scars on the city and threatened the attempted to destroy the multiculturalism that Sarajevo has cultivated and nurtured throughout its history. Despite the attempt, Sarajevo has continued to nurture its reputation for cultural and religious diversity. It is often said that Sarajevo is very unlike the rest of B&H, which has suffered deeply from the invisible lines of ethnic division that were the result of the conflict during the early 1990's.
As an example of this spirit of Sarajevo, an official ceremony took place in Sarajevo to mark the unveiling of the monument to former Pope John Paul II, who was declared a saint three days ago. The statue was set on the square in front of the Sacred Heart Cathedral in Sarajevo, which is located on the main pedestrian street of Ferhadija, overlooking an array of cafes and is a popular meeting spot for locals.
At the start of the ceremony today, the Archbishop of Vrhbosna and Cardinal of the Roman Catholic Church VinkoPuljić and the President of the Sarajevo-based Croatian Cultural Society 'Naprekak' FranjoTopić took off the cloth that covered the monument of Pope John Paul II in front of the Sarajevo Cathedral. There were hundreds of people who gathered to witness the unveiling of the monument, with some people carrying photographs of the former Pope.
Before the unveiling that took place at around 13:00, there was a mass inside the Cathedral, with the attendance of numerous politicians, religious leaders and other prominent members of society. There were 150 priests at the mass, mostly bishops from B&H, and Chairperson of the B&H Council of Ministers VjekoslavBevanda, Deputy Chair of the B&H House of Peoples and President of the HDZ party in B&H DraganČović, FB&H President ŽivkoBudimir, Mayor of Zagreb Milan Bandić and member of HDZ B&H party BožoLjubić.
. Pope John Paul II visited B&H twice. The first visit was to Sarajevo in 1997, and then Banja Luka in 2003. While he served as Pope, John Paul II mentioned B&H 263 times in his speeches, and recognized the independence of B&H one month after the referendum was held in which B&H declared its independence from Yugoslavia.
It was emphasized that the monument is dedicated to all the citizens of B&H, and that its purpose is to send out a message of peace, understanding and friendship, and that this monument would stand as a symbol of everything that former Pope John Paul II represented.