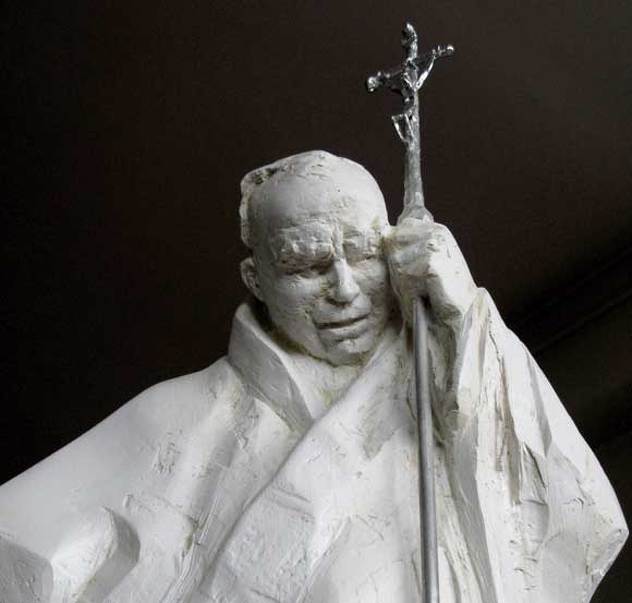 By Maja Tuljkovic – Sarajevo
In Sarajevo, final preparations are being carried out related to tomorrow's unveiling of a monument to the recently declared saint Pope John Paul II. Construction works in front of the Sarajevo Cathedral are in its final stages. In front of the stairs of the Cathedral and the main entrance granite slabs have been installed, and a base has been built, where the monument to Pope John Paul II will be built.
The monument to Pope John Paul II in honor of the peace mission in B&H with the commemorative ceremony will take place tomorrow at 13:00 on the square in front of the Sarajevo Cathedral of the Sacred Heart of Sarajevo, only a few days after this Pope will be declared a saint. The project of erecting monuments to the Pope is an initiative of the Croatian Cultural Society 'Napredak' and the Vrhbosna Archbishop, and dates back to 2007, with the goal to be dedicated not only to Catholics but to all people of good will in B&H.
The monument to the Pope will be 2.92 meters high, with 12 cubic meters of space and it will be made out of a material of silver color, which is quite stable and better quality than the previously planned bronze. The solution was thought of by young sculptor HrvojeUrumović, who was born in Sarajevo and lives in Zagreb.
According to the latest information, the Pope's monument was delivered today in Sarajevo. The monument will be placed in front of the Cathedral, and using a crane will be placed on a stand. The plateau in front of the Cathedral was chosen for two reasons. Above all, the Pope welcomed the crowd from this place. Also, this square is a place for the gathering of youth, and the Pope was fond of youth.
Regarding the program of the official unveiling of the monument tomorrow, it will be preceded by a Mass, led by Cardinal VinkoPuljić. At around 13:00, a procession will start from the Cathedral square, which will be accompanied by music by one of the best brass orchestras in B&H and the region, the renowned brass band of the Croatian Cultural Society from Trebižat.
At the opening ceremony of the unveiling of the monument there will be addresses by the Archbishop of Vrhbosna Cardinal VinkoPuljić, Nuncio Luigi Pezzuto on behalf of the Vatican, President of the B&H Presidency BakirIzetbegović, President of the B&H Council of Ministers VjekoslavBevanda and President of HKD 'Napredak' FranjoTopić.
John Paul II was born in 1920 in Poland. He became a priest in 1946, and a bishop in 1958. He was one of the youngest popes of modern times. John Paul II strongly advocated positions for which even some Catholics considered to be too conservative. He visited B&H shortly after the war, on 12 and 13 April 1997, when he was in Sarajevo, and on 22 June 2003 when he visited Banja Luka.