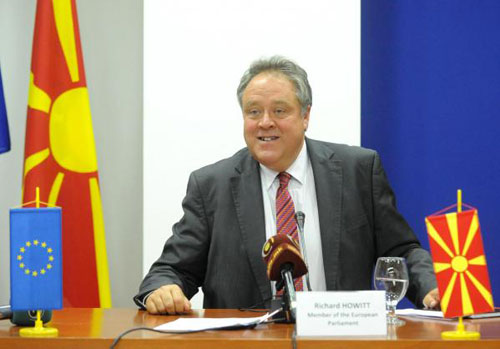 Skopje, October 28, 2013
British MEP on FYR Macedonia in the European Parliament, Richard Howitt called today upon the political factor in the country to commit in the Euro integration aspect.
Howitt underlined that all political factors must commit in the next two months until the meeting of the EU Council which will be held in the month of December and which will decide about the opening of negotiations for FYROM's accession in the EU.
According to him, the country has met several from the Copenhagen criteria, but like he said, a part of the member countries have not agreed about this.
Howitt has also talked about the state of the media and for the imprisoned journalist, Tomislav Kezharovski. He said that in Brussels there's great concern about freedom of media and the case of Kezharovski.
"Corruption and lack of divisions between state functions and party functions remain a problem in this country", said British MEP, Richard MEP. According to him, another topic of the talks will be the agreement on the pipeline signed with the Russian Federation.
The British MEP has expressed these concerns in the meeting of the Euro Integration Council of the Parliament of FYROM, which discussed the progress report and the expectations for the December meeting of the EU council. /ibna/