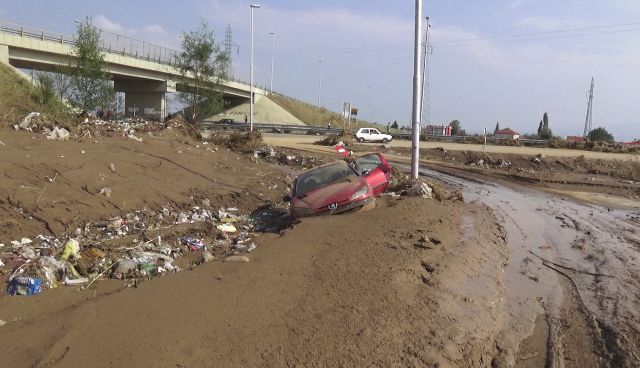 Skopje, 7 September 2016/Independent Balkan News Agency
By Naser Pajaziti
One month after the floods that affected Skopje, residents say that the living conditions in their homes are not yet suitable. A part of them live on the first floor of their homes and a part in makeshift spaces.
But they fear that the floods may be repeated and that their situation may complicate even further.
Imran S from the quarter of Hasanbeg says that he will demolish his home entirely, because there are no suitable conditions to live there due to the great damages that have been caused. He says that he has no money to fix his home, while the government has only given 500 euros to him so far.
"We have received only 500 euros worth of aid and other humanitarian aids. But we are expecting the government to compensate us for all the damages, as they have promised us, because we would remain homeless", says the resident from Hasanbeg.
In the village of Stajkovci, the situation is the same and residents are expecting the state to help them. In this village, there are residents who say that they haven't even received the emergency fund of 500 euros that the government has allocated.
"We have submitted all the necessary paperwork to the commune. For the time being, we are waiting to see what happens", says resident Sanda Filipova.
Schools in these areas have started the new academic year, but a part of the students are missing, as they have moved to other areas.
The Red Cross has announced the distribution of 1 million euros collected in the form of donations. Residents are still entitled to claim for damages. Debates are taking place in parliament for budget reviews, as the government has planned on allocating 34 million euros for the compensation of residents affected by the floods.
The 6 August floods affected over 5 thousand households in 12 areas in the suburbs of Skopje. /balkaneu.com/