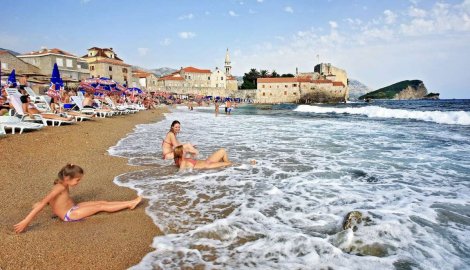 Podgorica, April 20, 2015/ Independent Balkan News Agency
By Adnan Prekic
Tourism as one of the most important branches of Montenegro economy, last year accounted to 20% of the gross domestic product. In figures that means that the Montenegrin economy benefited more than 730 million euros from tourism. Montenegro every year is recording better results in this field, while year it is projected to grow even more this year, with some of the prognosis indicating that the income from tourism each year has been increasing nearly 8 percent. It is estimated that within ten years income from tourism could make a third of the Montenegrin economy.
The total, respectively direct and indirect contribution tourism and travel to the Montenegrin gross domestic product last year amounted to 733.2 million euros, or 20 percent of the GDP. According to the report of the World Council of Travel and Tourism, the total contribution of travel and tourism to GDP will grow 7.9 percent this year, and estimates are that in the next ten years it will grow to 7.7 percent annually to 1.66 billion in 2025, which is 32 per cent of the country's GDP. According to the forecast growth rate of the total contribution of tourism this year, Montenegro is in the WTTC report, which analyzes the growth trends of 184 countries in where tourism is a strategic industry, and it is ranked seventh.
The direct contribution to the GDP refers to the total consumption inside individual countries on the Travel and Tourism residents and nonresidents incommercial purposes and leisure facilities, as well as consumption of the general government on services directly associated with the visitors, for example in museums or national parks. On the other hand, as explained above, the total contribution of tourism and travel to the GDP implies a broader impact on the economy or the effects of investments, suppliers and the like.
In 2013 Montenegro was visited by nearly 1.5 million visitors, 3.6 percent more than in 2012. The montenegrin coast achieved a little more than 9.4 million overnight stays, an increase of 2.8 percent compared to 2012.
The total number of overnight stays of foreign tourists accounted for 89 percent, with most of the guests caming from Russia and the former states of the Soviet Union, followed by Serbia and the EU member states.
The average length of stay of foreign tourists in the last year was 6.3 days. Tourists from Russia and Kosovo stayed the longest, a little less than eight days. Domestic tourists spent on average about 5.9 days.
The total income from tourism last year, according to estimates of the relevant Ministry, amounted to 721 million euros, which is 3 percent higher than that in 2012.