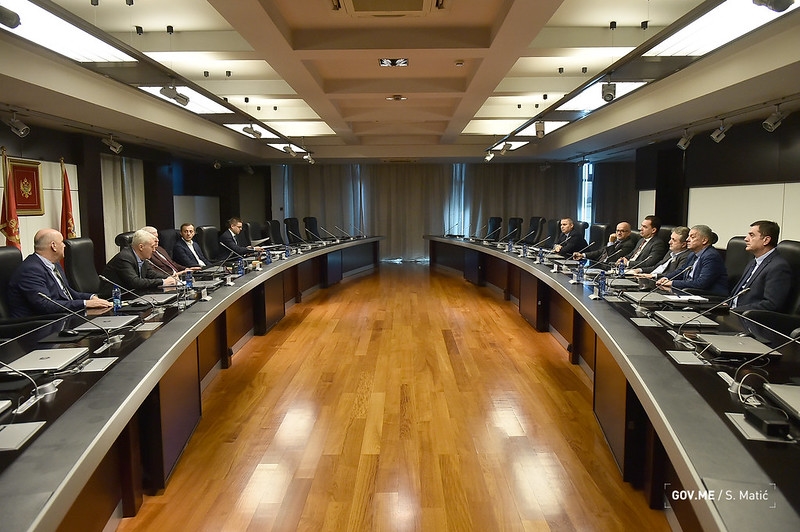 Montenegro's National Security Council informed at today's session the Police Directorate and other state authorities about activities undertaken to ensure a stable law and order during the New Year and Christmas holidays, as well as activities related to protests over the adoption of the Law on Freedom of Religion or Beliefs and Legal Status of Religious Communities, which represents a modern legal framework for the cultural and democratic emancipation of Montenegrin society, the Montenegrin Government announced.
The Council analysed in detail the flow of gatherings and protest walks organised by the Metropolitanate of Montenegro and the Littoral in all cities, from 26 December 2019 to 7 January 2020, as well as the circumstances and risks that accompanied them, which could have an effect on security opportunities in the country.
The Council estimates that the organisation and the protests were accompanied by strong and negative political, and inappropriate and aggressive media campaigns, with a great deal of misinformation and fake news – aimed at disturbing the public and citizens, and fostering riots and instability.
The bearers of these activities were from the country, but also from the immediate neighbourhood – with the clear intention of misinforming the citizens, and especially the believers, about the alleged scenario of intruding into the religious objects of the Serbian Orthodox Church; the expulsion of priests; and pressure on the Serb community in Montenegro.
"Subversive activities also went in the direction of compromising the state, its symbols, holders of state power, as well as calling for a final confrontation with the constitutional order, the rule of law, and law enforcement agencies – by all means. Thus, their goal was to undermine the vital constitutional and democratic values of Montenegro", the announcement notes.
The state authorities and the leadership have responded lawfully, with tolerance to one of the more serious attacks on stability and peace. The security system, above all the Montenegrin police, professionally provided the conditions for a smooth gathering of believers and citizens, but also for the exercise of the rights and freedoms of all others, with a stable law and order.
Furthermore, the Council noted the high degree of responsibility of the majority of citizens and participants in the protest rallies, who have not yielded to an unprecedented campaign and misinformation about the threat to their religious rights and freedoms.
The positive approach of the Metropolitanate of Montenegro and the Littoral, which has contributed to peaceful gatherings, resisting certain political interference from Montenegro as well as those outside he country, is also evident.
The Council concluded that Montenegro is a free and democratic society in which, without restrictions, different opinions can be expressed regarding many social issues and policies of the Government. The only condition is that they are organised lawfully and without jeopardizing the rights of others.
"What is not, or will not be allowed, is an external interference in our internal circumstances, that is, our sovereign right to conduct our own foreign and domestic policies freely. As a civil and democratic society, Montenegro has the exclusive and legitimate right to protect the freedoms and to regulate the rights of all citizens who live in it," concludes the Montenegro government./ibna