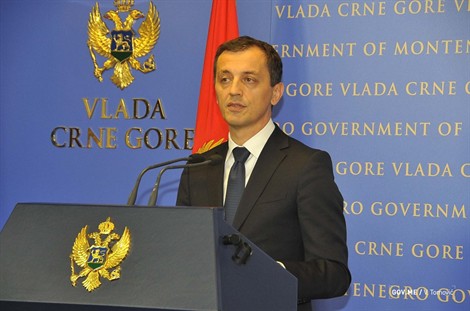 "Montenegro has successfully completed its integration phase in NATO by fulfilling all its goals, and in the future will maintain its independent status," Minister of Defence Predrag Bošković stated today during the Government's press conference.
The official date for completing this phase of high importance is July 23, when Brigadier General Dragutin Dakić alongisde Allied Command Transformation (ACT) Officer in Command André Lanata will sign the Declaration of the Completion of Montenegro's Integration Process into NATO, as Minister Bošković announced.
At today's session, the government acquired all information needed on Montenegro's inclusion to NATO and accepted the document of the Declaration on the completion of Montenegro's integration process in NATO. The declaration is a formal act, stating that the process of Montenegro's inclusion in NATO has been completed.
Bošković recalled that Montenegro's accession to NATO on June 5 2017 constituted the end of phase one, while the period of the complete merge, which lasted two years, had just begun.
Montenegro's two main goals consist firstly of the Montenegrin Army's merge to the command structure and to the structure of NATO forces, and also to state its intentions to contribute to the Alliance's missions and tasks in accordance with NATO's principles and procedures. "In order to achieve these goals, the Army of Montenegro has developed an integration plan that was supported by the NATO Support Plan under the leadership of the Supreme Command of the Alliance for Transformation, while working closely with the Supreme Command of Europe's Allied Forces as well as with the united and independent NATO commands", Minister Bošković commented.
The basis for monitoring and assessing the achieved level of Montenegro's integration process into NATO was the "Montenegro NATO Integration Plan". The integration plan envisions tasks and activities that Montenegro should fulfil in order to be fully included in the NATO structure.
Bošković expressed his great satisfaction with the results achieved in the integration process. He stated that during the entire process, Montenegro showed co-operation and commitment, thus stating itself as a serious and reliable ally, though being the Alliance's youngest member.
"One important phase has been successfully completed, but we are starting another one, in which we have to prove that we are capable of continuing the transformation process independently," Bošković said./ibna