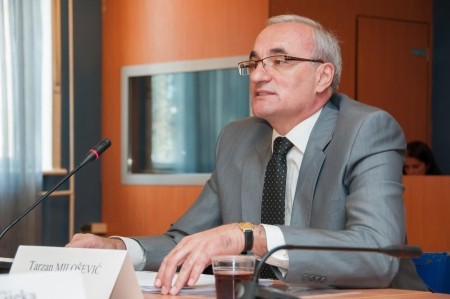 Montenegrin Ambassador to Serbia Tarzan Milošević said that he firmly believes that the problem, which arose from the opening of the Montenegrin border for some countries, will be solved in the next 10 days.
Milošević believes that bilateral relations between Serbia and Montenegro have been at a low level for the past eight years.
"Citizens of Serbia can certainly come to Montenegro, it is a fraternal people and they will certainly not have a problem when they come to us," Milošević stated for Prva TV.
He reminded that 400,000 tourists came to Montenegro from Serbia last year, and added that the citizens of the two countries want the best possible relations.
"It is not easy to be the ambassador of Montenegro in Serbia. Every morning you watch television and read the newspapers where Montenegro is on the front pages in a negative context. "Is it for a reason? I will let the people judge, but I don't think so", Milošević said as a guest on Prva TV.
According to the ambassador, Montenegro is a civil state. "The smallest wish ever in Montenegro is for people to be counted on a national basis," Milošević said.
He also says that no one talks about the fact that there were nine percent of Serbs in Montenegro in 1991, and in 2003 that percentage increased significantly.
"The counting of Serbs was not initiated by anyone from the Montenegrin government. We have no reason to defend someone from declaring himself a Serb. I have always declared myself a Montenegrin," Milošević said.
Milošević made it clear that the state does not want to steal anything from anyone.
"I have excellent communication with Bishop Joanikije, I am sorry for what happened to him. I came to Serbia to improve the relations between the two countries, but they have worsened in recent years," Milošević said.
The goal of the DPS, as he points out, is to reach reconciliation.
"The state does not intend to take any facility. It intends to define the status of these facilities. The monastery in Cetinje is being run by the town of Cetinje for years. It is at the disposal of the MCP", Milošević explains.
He also reminds that he was the political director of the DPS for seven years. "No one has ever told anyone not to go to the Serbian Orthodox Church," said the Montenegrin ambassador to Serbia./ibna