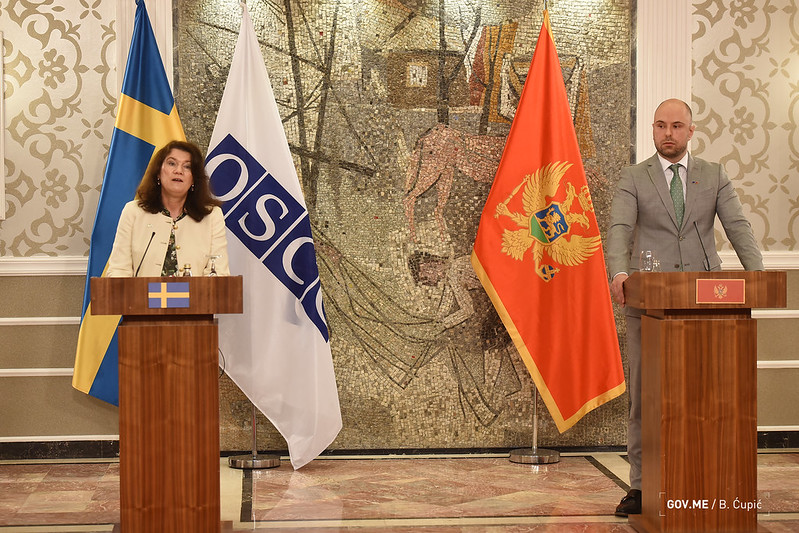 The Government of Montenegro accepted the decision to withdraw six ambassadors, confirmed the Minister of Foreign Affairs, Đorđe Radulović, and said that this was done for the purpose of authentic presentation of foreign policy.
As previously announced, the ambassador to the United Nations Milica Pejanovic Durišić, the ambassadors to Croatia – Boro Vučinić, Slovenia – Vujica Lazović, Argentina – Srđan Stanković, the United Kingdom – Vladimir Beratović and the Montenegrin ambassador to the Council of Europe Zoran Janković were recalled.
At the press conference, after the meeting with the Minister of Foreign Affairs of Sweden, Ana Lind, Radulović said that the recalled ambassadors had a reasonable time by which they should return to Montenegro and to the duty in the Ministry of Foreign Affairs (MFA).
"All ambassadors were informed about these facts in a timely manner, and a phone call was sent to them," said Radulović.
He said that the recalled ambassadors, who have permanent employment in the MFA, would continue to work, and those who came to that position from other positions will return to the previous ones, MINA Agency reported.
Asked whether Montenegro will join the EU sanctions against Belarus and how much it could affect the tourist season, Radulović answered that the foreign policy priorities are clear and that they are the European integration of the country, good regional cooperation and credible NATO membership.
According to him, Chapter 31 is just as important as any other is.
"Implementation of the common foreign policy is something that is expected of us, as you heard from Minister Lind, the situation in Belarus is not something that worries only the EU, but something that worries the OSCE and worries many of our partners," said Radulović.
He said that Montenegro would soon receive an invitation to join the restrictive measures.
"When the call for accession comes with restrictive measures, Montenegro will join and continue to have 100 per cent compliance with the common foreign policy," Radulović said.