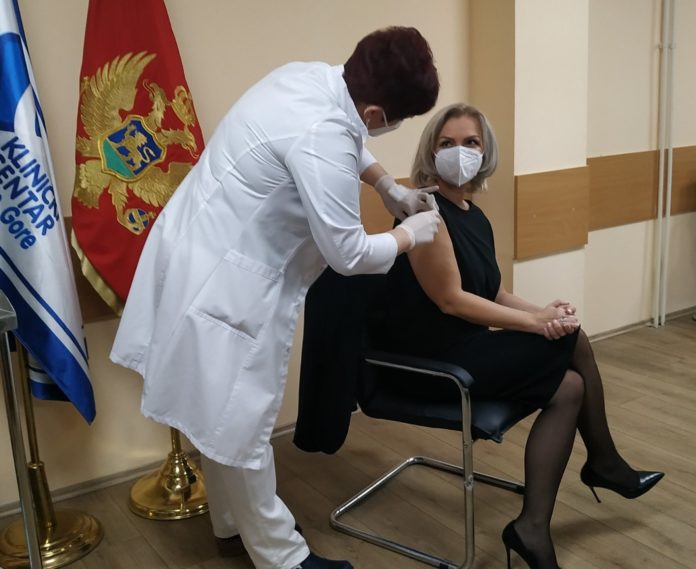 Health Minister of Montenegro Jelena Borovinić Bojović received the first Sputnik V vaccine on Tuesday at the Clinical Centre of Montenegro.
Vaccination has already started in the country with vaccines obtained from Serbia. Five thousand doses of the Russian Sputnik V vaccine are expected to arrive, while 30 thousand doses of the Chinese vaccine will leave Beijing on Saturday.
"The second batch of the Russian vaccine will arrive in Montenegro on Thursday at 2:30 p.m., comprising five thousand doses. The donation of 30,000 doses of the Chinese vaccine will start their journey from Beijing to Montenegro on February 27," Borovinić Bojović told reporters after receiving the vaccine.
She stated that the five thousand doses of the Russian vaccine, which will arrive in Montenegro on Thursday, are the first batch of the 50 thousand doses expected to be received in the first quarter.
Borovinić Bojović said that the second delivery of vaccines from Belgrade would arrive on time so that the second vaccine doses could be administered.
She stated that she could not specify how many vaccine doses have been used so far, as the process is in progress.
"Vaccination is carried out according to the designed plan of the National Immunization Strategy of the Institute of Public Health," said Borovinić Bojović.
Speaking about the vaccination of the oldest citizens, she stated that there are three ways to apply for vaccination.
"One is through the coronainfo website, the other through selected doctors who will call everyone who is not registered and are older than 80, and the third way is through the phone line which will be constantly open and through which citizens will be able to apply", Borovinić Bojović explained.
When asked how many vaccines will arrive by the end of the second quarter, she answered that another 50 thousand Russian vaccines were ordered for the second quarter, 150 thousand Pfizer and 84 thousand AstraZeneca doses will arrive through the COVAX mechanism, while a final contract for 150,000 Chinese vaccines is also under negotiation.
"The National Immunization Strategy envisages that it would be optimal to vaccinate around 330 thousand inhabitants in Montenegro, which would speak in favour of collective immunity," said Borovinić Bojović.
Asked when the vaccination of the general population will start, she stated that it will start immediately after the vaccination of the priority groups is completed.
When asked if there were cases when health workers in Montenegro refused to be vaccinated, Borovinić Bojović responded that this has not happened so far.
She called on citizens to respect all measures to suppress the epidemic, stating that it takes some time to develop immunity after the second dose of the vaccine. /ibna