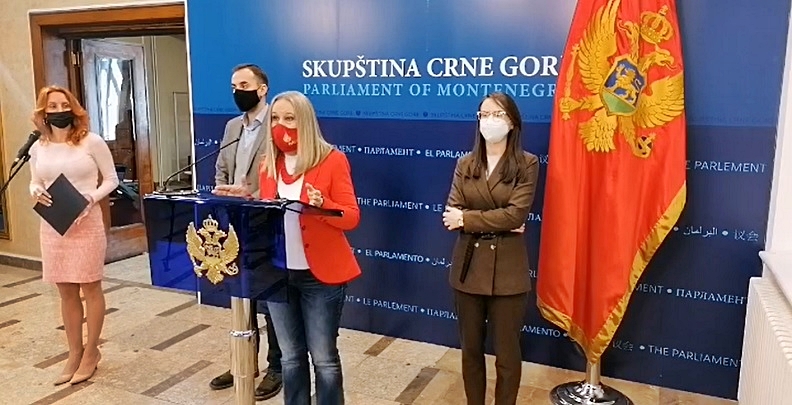 The Civic movement URA believes the citizens of Montenegro should decide via a referendum whether they agree with oil and gas exploration activities in the territorial waters of Montenegro.
URA Movement's Miloš Konatar told reporters that URA, the CIVIS Citizens' Union, the Black and White Platform and their parliamentary club in the Parliament of Montenegro would launch an initiative to call for a referendum on oil and gas exploitation.
Konatar called on the Government of Montenegro and the Ministry of Capital Investments to support this initiative, as this issue concerns all citizens, and it is them that should have the final say through a referendum.
He added that they are in favour of an ecological Montenegro, which is why they cannot support any decision that endangers sustainable development and the environment.
"We will submit a formal proposal to all deputies to support the initiative and a proposal to call for a state referendum. We will kick off the procedure of collecting signatures shortly. We need to get at least 10% of citizens eligible to vote in the country to sign up. That is about 54,000 signatures, and I am sure we will collect more," Konatar said.
He pointed out that all institutions in the country should respect the decision made by the citizens.
Konatar called on the Ministry and the Government to make public all agreements concerning the exploitation of oil and gas: "To remove the secrecy mark from the agreement, because the public has the right to see these agreements."
He also called on citizens and institutions to organize relevant public debates and round tables and for all issues to be opened, adding that in the end the citizens shall decide on the exploitation of oil and gas via a referendum.
URA MP Božena Jelušić said the Montenegrin sea is shallow and enclosed, thus any incident would have unforeseeable consequences and damage, while it would also lead to the destruction of all other forms of economy.
"Personally, I am more for environmental interests, because energy research is always relevant," said Jelušić, stating that Montenegro has many other resources. /ibna