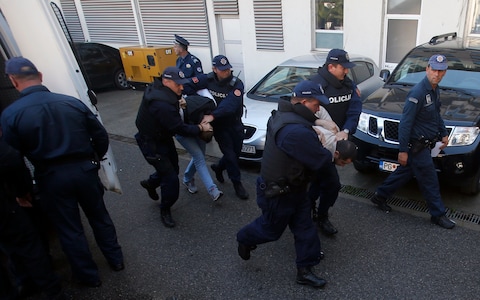 How deeply rooted is the connection between Montenegro and Russia?
Podgorica, Thursday, October 26. A key witness in the trial of the 14 suspected plotters with the aim to topple Montenegro's government back in the autumn of 2015, directly spoke of Russian fingers behind the Montenegrin coup plot and funding that came in abundance, again from Russia.
Russia's alleged implication was no news as, already since 2016, "Montenegro's chief special prosecutor" had said that Russian nationalists were behind the plot (…) "Milivoje Katnić said an investigation, which was conducted in collaboration with Serbia, concluded that "nationalists from Russia" organized a criminal group, planned to break into the Montenegrin parliament on election day, kill the prime minister Milo Đukanović, and install a pro-Russian coalition to run the country", reported Homeland Security News Wire (HSNW).
The aforementioned trial opened in September 2017. And what is new is what main prosecution witness, Aleksandar (Sasha) Sindjelic testified in court, on Thursday. And this is his actual contact with two Russians, Eduard Shishmakov and Vladimir Popov, back in 2015, with the sole order to prevent the then leadership in Podgorica from joining NATO, at any cost.
Sindjelic said that money was not an issue since Shishmakov would give him as much as he wanted in order to deliver the order.
The two Russians are believed to be secret service operatives. "Russia officially denies any involvement in the coup attempt, but Moscow has openly supported what it called the 'patriotic parties' in Montenegro which oppose Montenegro becoming a member of NATO", reads HSNW.
The former, pro-Western administration of Milo Djukanovic wished the country to join NATO, something that at the end did happen in 2017. However, evidence so far suggests that the Russians together with the fourteen (14) people in trial right now, had an apparent motive to "assassinate then Prime Minister Milo Djukanovic in a coup that would then bring the pro-Russian opposition to power", writes BalkanInsight.
Russia's strong objections to Montenegro's NATO membership had to do with Moscow ceasing to have strategic access to the Adriatic Sea and an ally in the SW Balkans.
From here on
Quite unexpectedly, when the Montenegrin prosecution accused Sindjelic of being one of the main figures in the attempted coup and the assassination plot, he agreed to work closely with the prosecutors and became a cooperating witness. In exchange, charges against him would be dropped and in November 2016, he was given protected witness status.
Back then, the Democratic Front in Montenegro has released this announcement: "By releasing the former terrorist Sindjelic, all the masks have finally dropped in that cheap, staged and performed vaudeville 'coup' on election day on October 16. It is all clear now" (BalkanInsight).
According to an AP report, right now, after Sindjelic's testimony, "defense lawyers have questioned his credibility as a witness, demanding a psychiatric evaluation."…/IBNA
Photo: Darko Vojinovic/AP