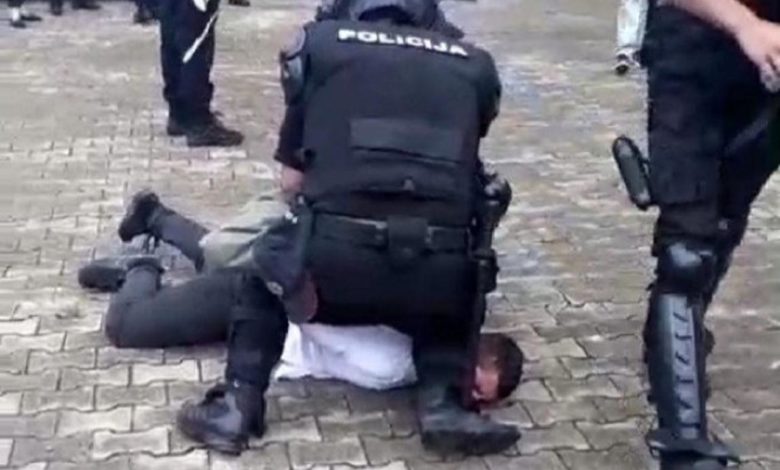 Dismissed president of the Municipality of Budva Marko Carević, alongside dismissed head of the Municipal Assembly of Budva Krsto Radović, were arrested this morning in front of the Municipality building. The Police also arrested several other people for obstructing officers in performing their duties.
The Police previously tried to take the inspector of the Administration for inspection into the municipal building, where they were welcomed by Carević and Radović.
According to some reports, the manager of the Municipality of Budva Milo Božović, the secretary for investments Mladen Mikijelj, the head of Carević's cabinet Nikola Jovanović, as well as Đorđe Vujović, Carević's advisor, have also been arrested.
Allegedly, Marko Carević's son and brother are also under arrest.
Yesterday, a relevant inspection rendered a decision ordering the secretary of the Municipal Assembly of Budva and the  secretary of the Secretariat for local self-government to allow Snežana Kuč and Vladimir Bulatović access to the offices, in order to access the official seal and enable the smooth functioning of local self-government.
The current presidents of the municipality and Municipal Assembly, Kuč and Bulatović respectively, requested from the Ministry of Public Administration to be provided with technical and other necessary conditions for performing work tasks.
Krsto Radović recently rejected the decisions on his dismissal.
Opposition parties in Montenegro condemned the arrests, describing the policing practice as the "tyranny of the ruling regime".
The SNP claims that the police "did their job in a way that we have had the opportunity to see only in some Latin American and African countries".
"What is happening in Budva is a shame. This is not the Montenegro we want to live in", the SNP said.
They called on the international community, European officials, as well as representatives of the United States to urgently assist in resolving the state crisis, which, as they say, is being produced by the Democratic Party of Socialists, led by Milo Đukanović.
The URA coalition announced that this morning's "unpleasant events and images of violence in Budva are tangible proof of a repressive regime".
They believe that the government, "which has spent all its tickets in the political struggle, is resorting to force by activating such a time bomb".
Demos said that, after the latest events in Budva, it is obvious that the ruling elite in Montenegro no longer hesitates to usurp power at any cost, entering the phase of "bare dictatorship".
"We appeal to international agents, primarily the EU with which we have a contractual integration relationship, to become actively involved and give an open assessment of the state of autocracy in the country and contribute to establishing minimum democratic procedures, before the regime's manipulations and arbitrariness lead to even greater tensions and an ever-increasing risk of internal conflict", Demos said in a statement.
Following the arrests, a group of citizens gathered in front of the Police station to protest against the Police's practices this morning. /ibna