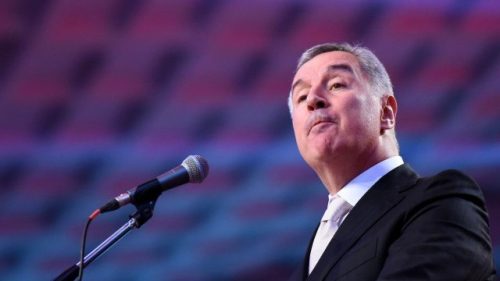 "It is more than obvious that the Serbian Orthodox Church was not only inappropriately involved in the elections, but was also the most active political actor. The Serbian Orthodox Church is constantly an instrument of Greater Serbian nationalism and Russian imperial interests in the Balkans. Only this time it did it openly", Montenegrin President Milo Đukanović said in an interview published by Zagreb's "Jutarnji list".
He stated that after the election, one of the spokesmen of the Serbian Orthodox Church said that the Serbian Orthodox Church would withdraw from political life, which only confirmed all this.
"However, his superiors obviously did not agree with that, so they showed who is the boss. They decided who will be the bearer of that policy, which was also admitted by the Prime Minister designate, Zdravko Krivokapić", Đukanović added.
According to Đukanović, that is the reality that must be faced in order to "preserve Montenegro as a civil and secular state with democratic and European values".
"Montenegro is the most stable society in the Western Balkans. I believe we can withstand the experiment in which the country has now entered. After 30 years, the government is changing, and the opposition, which has never been the government before, must learn the job. And the former government must learn to act as an opposition after 30 years", he said.
"I am sending a message about the fight in the forest, if necessary, to those who began to interpret the election results too simply. Not only in the domestic but also in the international public, there is the narrative that the Montenegrin state was endangered by the election result", Đukanović stressed.
He added that the state was not to be decided in the last parliamentary elections, because it was decided 14 years ago.
"But if anyone from Montenegro or the region thinks that under the change of government they can endanger our country, they must know that we will defend it as we have defended it for centuries. So, it was not a bad premonition, nor today's reality", he pointed out.
According to him, the possibility cannot be ruled out that the dreams of Greater Serbia "have not been completely dreamed".
"I have not yet read any denials from any relevant Belgrade address. The process of Kosovo's entry into the United Nations is underway, so those who nurture Greater Serbia's aspirations could believe in some compensation at the expense of Montenegro and Republika Srpska. All these are dreams and illusions", Đukanović said.
He assessed that there is no doubt that today's Serbia provided logistics to Greater Serbian nationalism towards Montenegro.
"Recently, before the election, I talked to the President of Serbia and pointed it out, but the answer was shrouded in concern for the endangered rights of the Serbian minority in neighbouring countries. I had the impression that Vučić had done something with the media, so the aggression subsided by one octave. But, the ghost was released from the bottle, which cannot be controlled now", Đukanović said./ibna