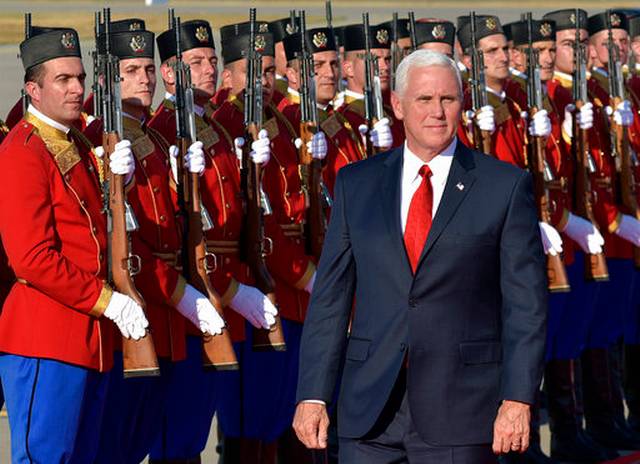 Prime Minister Ana Brnabic met on Wednesday with US Vice President Michael Pence on the sidelines of the Summit of the US-Adriatic Charter (A5) in Podgorica.
Brnabic "expressed her satisfaction with the recent successful working visit of President Aleksandar Vucic to Washington, that encouraged the further development of cooperation between the two countries," the Serbian government said on its website.
She pointed out that this speaks in favor of the fact that improvement of overall bilateral relations with the United States is one of Serbia's foreign policy priorities.
Brnabic pointed to the importance of the US support to the European integration process of Serbia, and expressed hope that in this regard, our country will also have the support of the new US administration.
She also "emphasized that Serbia's preeminent interest is preserving the peace and stability of the Western Balkan region, noting that our country has a constructive approach and that it will have the same approach in the future" and "underlined that only preservation of peace and stability in the region, as well as resolution of all outstanding issues through dialogue and the search for a compromise can contribute to the progress of the region, the continuation of the reform processes and the strengthening of interconnectedness."
The officials also discussed bilateral cooperation between the two countries in the field of security, where it was noted that the greatest advance is seen in the area of armed forces and police was achieved in the previous period.
Accordingly, Brnabic pointed to the full commitment of Serbia to the fight against international terrorism and the readiness to actively contribute to the suppression of this global problem.
Brnabic and Pence also discussed the Brussels dialogue and the implementation of the Brussels agreement, and the Prime Minister stressed the necessity of the forming of the Community of Serbian municipalities soon./IBNA
Source: B92