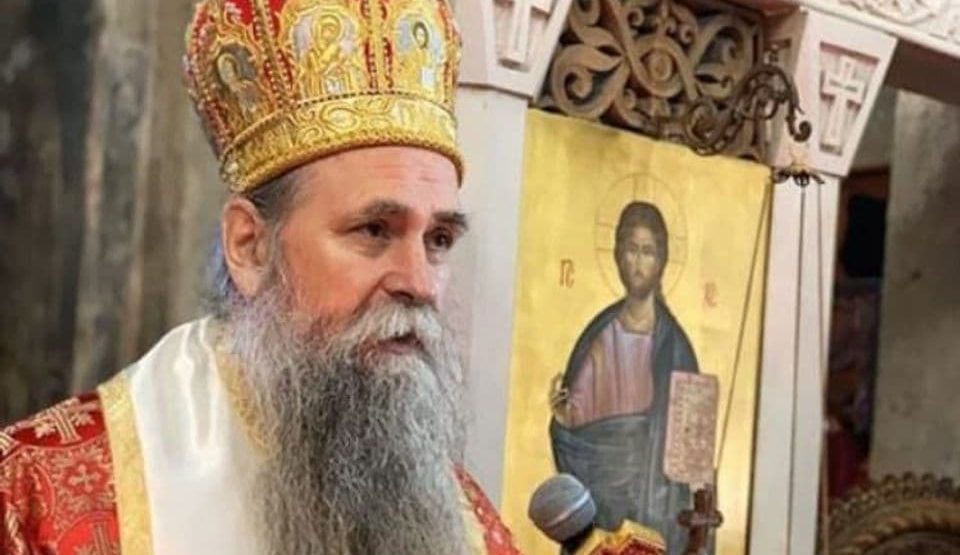 Bishop Joanikije of Budimlje-Nikšić and seven priests of the Metropolitanate of Montenegro and the Littoral have been detained by the police for up to 72 hours, after being questioned by the Basic State Prosecutor's Office in Nikšić over a religious procession in that city, during which measures to suppress the coronavirus were violated.
Priests Slobodan Jokić, Danilo Žirojević, Željko Rojević, Ostoja Kneževica, Mirko Vukotić, Vasilije Brborić and Nikola Marojević were also detained for up to 72 hours. Allegedly, the priest Jokić was not even questioned because he is in the hospital.
Two hours after midnight, the Bishop of Budimlje-Nikšić, Joanikije, and the priests, accompanied by the police, were brought to the Basic Prosecutor's Office in Nikšić, since they had previously given statements to the police.
Last night, at around 10 pm in the Parish Home, the police handed out orders for interrogations to Bishop Joanikije and the priests, in order to gather information about yesterday's liturgy in that city.
Bishop Joanikije and the priests spent four hours in the police station, after which they were taken to the Prosecutor's Office in Nikšić.
The police operation was conducted after the Montenegrin National Coordination Body for Infectious Diseases called on the Prosecutor's Office to react urgently due to the events in Nikšić, and assessed that the city was at epidemiological risk.
A large number of citizens gathered in front of the Parish Home and chanted: "We do not give saints, we do not give our bishop".
Yesterday, the Serbian Orthodox Church organized a procession and liturgy in Nikšić on the holiday of St. Basil of Ostrog, which gathered a large number of citizens, despite the ban on public gatherings due to the coronavirus pandemic.
Acting Supreme state prosecutor, Ivica Stanković, reminded all believers that after some measures had been eased, religious rites "are allowed to be performed only with adherence to the recommendations of the authorities".
Stanković said to everyone defying the measures and orders of competent authorities that they risked provoking the determined reaction of the State Prosecutor's Office as "the law is equal for everyone".
The Serbian Orthodox Church said that the intention of the police was "to humiliate the eminent Hierarch of the Church of God with the way they wanted to take him to the police station in a vehicle for criminals, popularly known as 'marica', which the Bishop dignifiedly refused and to the great displeasure of the gathered people (several thousands of supporters) went on foot to the police station, accompanied by some priests, whom the police also intended to detain.
By treating religious officials in this way, in this case the Hierarch of the Church of God and the clergy of the Nikšić Cathedral, the police are demonstrating unprofessionalism, thus trying to provoke citizens and the faithful and jeopardize the peace and stability in Montenegro", the SOC said in a statement./ibna