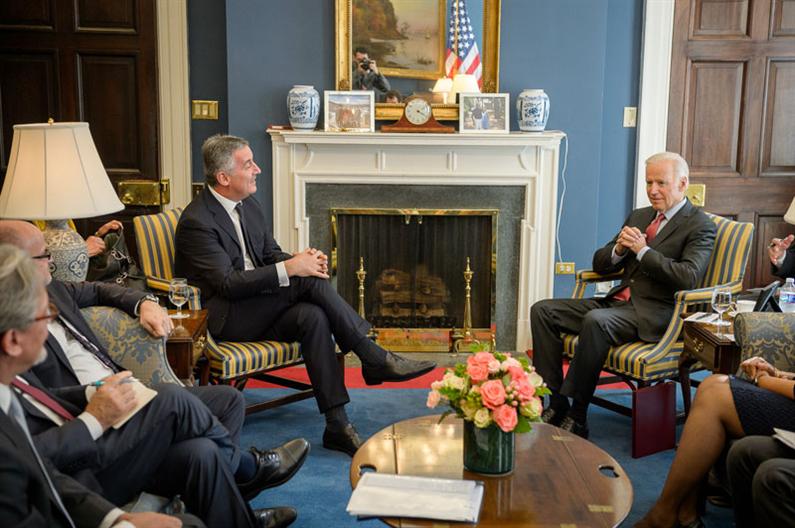 By Adnan Prekic – Podgorica
As part of the intensive bilateral activities ahead of the NATO summit in Wales, Montenegrin Prime Minister, Milo Djukanovic, hold talks with U.S. Vice President, Joseph Biden, in Washington. During the meeting it was assessed that Montenegro's intentions to get its invitation for the membership is legitimate, but that a final decision is still pending. Prime Minister Milo Djukanovic stated after the meeting that it is very realistic to expect that Montenegro gets a invitation to a summit in Wales, but no one can guarantee that, even the United States.
After an initial support from many European coutries, Montenegro's aspirations for receiving an invitation for membership on the upcoming NATO summit in Wales is also encouraged by the U.S. During the talks, the White House assessed the progress of Montenegro very positively and concluded that the results are evident. All previous enlargements of NATO were carried out with the support of the U.S., Montenegrin official are hoping for a similar type of support. Djukanovic said that he heard Biden saying that Washington has in mind the expansion of NATO, and that is further emphasized by the crisis in Ukraine.
The U.S. support for NATO membership, however, is not unconditional.  Djukanovic repeated that the U.S. expects from Montenegro to fulfill all relevant requirements in four areas. These requirements relate to the rule of law, the reform of the security services, military reform and greater public support. If sufficient progress is recorded in these four areas then the United States will be totally convinced of the intention of Montenegro to become a member of NATO, said the prime minister.
Before the meeting between Djukanovic and Biden there were speculations about whether they would discuss about the "Telekom" affair. In this affair the U.S. investigating authorities have found evidence that there was corruption in the purchase of the state telecommunications company and that the sister of the Prime Minister Djukanovic was involved in these illegal activities. The Prime Minister said that in connection to the subject of the rule of law they did not discuss specific cases such as the "Telekom" scandal. They talked about the freedom of the media in Montenegro, and the need to continue with the effective action of the state to protect the rights of the media to report freely", said Djukanovic .
The visit of the Prime Minister of Montenegro in the White House was marked by demonstrations of Albanians from Montenegro who now live the United States. They expressed dissatisfaction with the government's failure to fulfill the promises given to Albanians. These requirements are related to obtaining an independent municipality in Tuzi, which is now in the administrative framework of Podgorica. The protesters carried placards with inscriptions Block the accession of Montenegro to NATO", "Djukanovic – last European dictator", "It's time to fulfill the promise given the Albanians", "Albanians are not second-class citizens".