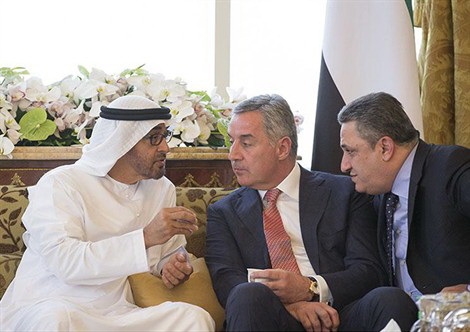 Podgorica, April 30, 2015/ Independent Balkan News Agency
By Adnan Prekic
The deficit in the state budget of Montenegrin Government over the past years has been funded by borrowing on international financial markets. During the next year, Montenegro will have to pay almost 400 million in loans. Montenegrin Minister of Finance Radoje Zugic, announced the possibility that these obligations are re-financed through a new credit arrangement with the royal family of the United Arab Emirates. The idea is to obtain a loan with a lower interest rate, in order for the debt to be paid off easier.
Montenegro will have to pay a 380 million euro loan next year. regarding the of the debt, Prime Minister Milo Djukanovic is negotiating with the United Arab Emirates, but the terms are still secret. The aim is to provide money from the Arabs to restore credit that will come in the following year. Finance Minister Radoje Zugic announced that the government is negotiating with the Arabs about the debt restructuring agreement.
The Ministry of Finance explained that Prime Minister Milo Djukanovic holds talks with Arab Sheikh Mohamed bin Zayed Al Nahyan on the reprogramming of debt repayments for next year and to be returned with a lower interest rates. In the discussions, Djukanovic and bin Zayed have generally agreed on this financial arrangement. The existing loans will be refinanced in the coming year and the debt will be repaid by multiple lower interest rates, Zugic said.
The public debt of Montenegro still remains below 60% of the Gross Domestic Product, which is still in the so-called Maastricht Criteria prescribed by the European Union. The Minister of Finance of Montenegro Radoje Zugic stated that on December 31 last year, the level of state debt amounted to 57.2 percent of the gross domestic product, while if one includes the debt of municipalities the amount reaches to 59.6 percent of the GDP, or a little more than two billion euros.
The lowest state debt which Montenegro has had was in 2007 when it amounted to only 27.5 percent of the gross domestic product or 737 million euros. In only four years after that, in the end of 2011, the state debt had doubled to 1.48 billion, or 46 percent of the GDP. At the end of 2012 the government debt stood at 1.7 billion and in the last year it increased by another 170 million euros, mostly due to the decline of guarantees for the Aluminum Plant, and because 135 million euros were paid from the state budget, despite the new government fees and higher taxes, as well as austerity measures, such as the freezing of pensions.