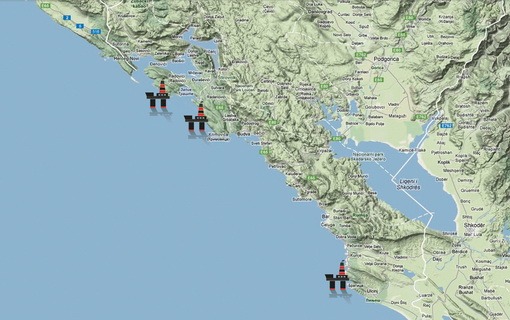 By Adnan Prekic – Podgorica
The international tender for oil and gas exploration in the Montenegrin undersea arrived yielded three bids. Registered companies have expressed interest to explore in one of the so-called 13 blocks of a total area of ​​3,000km in the southern and eastern part of the Montenegrin undersea. By the end of the year the  negotiations with each company are expected to have been completed and start exploring. The tender predicts that the state Montenegro earns 65% of the total revenue from the eventual discovery of oil and gas.
The government of Montenegro has announced that the tender for oil and gas exploration was successful and that they have received three offers from international companies. Bids were submitted by Marathon Oil Corporation in Texas and OMV in Vienna, second from ENI in Milan and Novatek in Moscow, and a third from the Greek-English consortium Energean and Mediterranean Oil & Gas. From the Ministry of Economy of Montenegro it was announced that in the upcoming period discussion will be held with bidders about the evaluation of the bids and is expected that by the end of the year will have come to an agreement on the contract, after which research could begin.
With published tender the Government of Montenegro has not taken any financial obligations and expenses related to research papers, but the company that are exploring takes the risk. It is estimated that out of 10 drill holes 3 or 4  will be successful. The cost per borehole can be 100 to 200 million dollars.
According to the contract of the study, which should be confirmed by the Parliament of Montenegro, the state will received 65% of the value of oil and gas that is found. The companies that submitted bids in 2013 had a turnover of over $70 billion and profits of over $10 billion. The most important references from the bidder has ENI, which operates in 85 countries, and which last year had a profit of $5 billion, employing 82 thousand people. Its partner Novatek is the largest independent gas producer in Russia with a profit of $2.2 billion. Marathon Oil Corporation of Texas explore and exploit oil in the United States and 10 more countries, and its partner OMV in 18 countries. The two companies last year had a profit of 1.3 and 1.7 billion dollars. Energean explores in the eastern Mediterranean and North Africa and has a profit of $15 million. Mediterranean is engaged in the development of production.