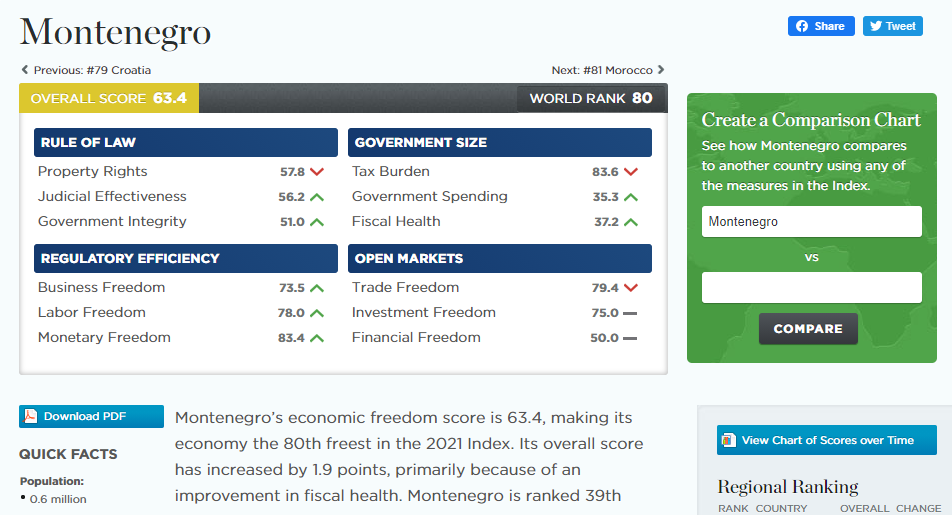 Out of a total of 178 countries, Montenegro clinched the 80th place on the American Heritage Foundation's list of global economic freedom. In the previous report, it was ranked 91st out of 180 countries, achieving an 11-spot leap.
According to the Foundation's report, Montenegro's overall economic freedom score was 63.4 and increased by 1.9 points, primarily due to improved fiscal health.
"Montenegro is ranked 39th among 45 countries in the European region," the report notes.
Montenegro's economy has climbed to the moderate-free tier this year.
"The high level of government spending and debt, which hinders greater economic freedom, would be mitigated by improved public sector finances. The country is also still plagued by corruption and weak rule of law, as well as a complex regulatory environment," the report adds.
Progress has been recognized in the areas of judicial efficiency, public spending, fiscal health and business, monetary and labour market freedom.
Decline was recorded in the domain of property rights, tax burden and trade freedoms.
Investment and financial freedoms remained at the same level.
Of the countries in the region, North Macedonia ranked 46th, Slovenia 48th, Serbia 54th, Kosovo 58th, Albania 66th, Croatia 79th and Bosnia and Herzegovina 82nd.
When it comes to the rule of law, the report section referring to Montenegro states that the law respects and protects property rights.
"The government has improved the property registration system, but further reforms are needed. Despite recent legislative reforms aimed at improving the efficiency of court proceedings, judicial corruption and lack of transparency or accountability remain problems. Corruption and the perception of corruption are significant problems in the public and private sectors," the Heritage Foundation states.
Starting a business and providing electricity have become cheaper, while resolving building permits takes less time.
"Regulatory and legal frameworks, which govern foreign investment, generally facilitate the development of a growing private sector. The financial sector is small, but the level of participation and investment of foreign banks is significant. The fully privatized banking sector operates under market conditions," the report adds. /ibna