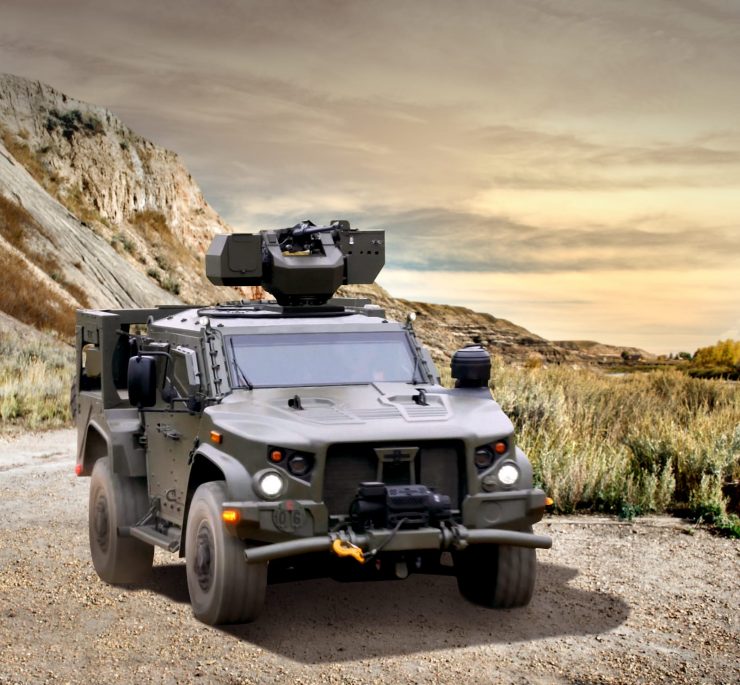 Israel and Montenegro signed on Sunday their first-ever defence agreement, awarding Elbit Systems, one of Israel's leading weapons manufacturers, a contract of approximately USD 35 million to supply Montenegro's Armed Forces with Remote Controlled Weapon Stations (RCWS), Israeli media reported.
The contract was signed by Montenegrin Minister of Defense Predrag Bošković and General Director of Israeli Ministry of Defense, Maj. Gen. (Res.) Udi Adam at the Military Headquarters in Tel Aviv.
According to Elbit, the RCWS is a lightweight, low silhouette, dual-axis and stabilized, and is mounted externally onboard armoured vehicles. The RCWS offers accurate firing on-the-move and is operated via handles and smart displays by the gunner from within the vehicle, providing protection to the vehicle's crew, who are safely located inside.
The RCWS will be installed on Montenegro's new 4X4 Joint Light Tactical Vehicles (JLTV), which are made by Oshkosh Defence. The contract states that Elbit will fully integrate the RCWS onboard the JLTV over a three-year period and will provide logistic support for seven years.
Bošković said that the Montenegrin Ministry of Defence chose the Israeli weapons system after careful consideration and extensive market research.
"We chose the Israeli Ministry of Defense and Elbit's proposal after detailed market research, in accordance with the technical characteristics and operational requirements of the Montenegrin Armed Forces. Israel's experience and technological solutions in this area make it a credible partner," he said.
Yehuda Vered, General Manager of Elbit Systems Land division, said that Montenegro's purchase of the RCWS is a testament to the system's growing global demand.
"We are very proud to introduce our RCWS to Montenegro's Armed Forces. This award further expands our NATO customer base and strengthens our growing cooperation with Oshkosh. We are witnessing a growing demand worldwide for our RCWS, of which many hundreds are already operational onboard a range of land and naval platforms, and we trust that further customers will follow in acquiring our advanced and mature weapon stations", he said.
Brig. Gen. (Ret.) Yair Kulas, Director of SIBAT, the International Defense Cooperation Directorate of the Israeli Ministry of Defense, said that the agreement is the first between the two friendly countries, and will hopefully lead to further cooperation in the future.
"This is the first agreement between the Israeli Ministry of Defense and the Republic of Montenegro, a country that is a partner and an ally of Israel. Montenegro, like other European countries, is facing complex security challenges, to which Israeli defence industries can provide hi-tech solutions. We look forward to expanding our collaboration and exchange of knowledge with our partners from Montenegro and hope to open up opportunities to other NATO countries as well", he said./ibna