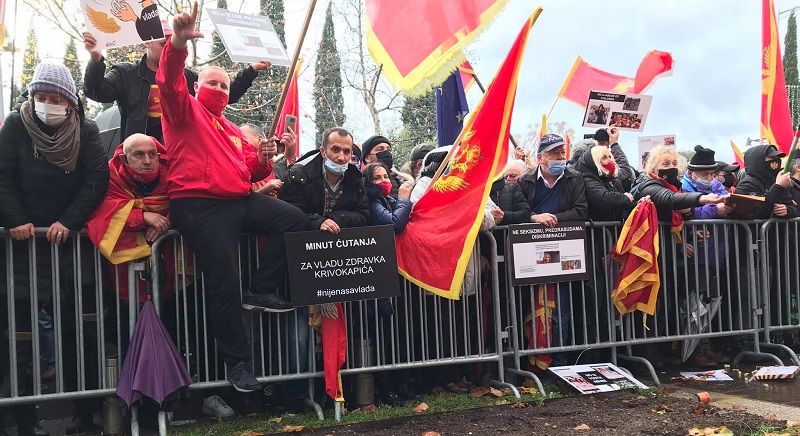 Several thousand citizens of Montenegro opposing the Government of Zdravko Krivokapić gathered today in front of the Parliament of Montenegro to express their dissatisfaction with the amendments to the Law on Freedom of Religion.
Opposition MPs, who up until recently held a majority in the Assembly and passed the first amendments to this law, gave their support to the gathered citizens. The new majority revoked the key changes to their previous state, causing a revolt among some Montenegrin citizens. The crowd shouted:  "We will not give up Montenegro", "Montenegro, I love you", "This is not Serbia", "Dritan is a Serb" and more.
Nemanja Batrićević said that "today we are divided into anti-fascists and fascists", "free and enslaved", "loyal and sell-outs." He also stated that today in the Assembly the "process of creating a single-ethnic and single-religious Montenegro" officially began.
Batrićević said today signaled the biggest looting of the cultural treasure of Montenegro and its handover into the hands of Serbia.
"As of today, we are becoming the only country in Europe in which the price of professing one's faith constitutes a renunciation of one's nation," Batrićević said.
He also added that this represented an unprecedented betrayal. "Today, with the votes of the Montenegrin sell-outs, you are once again handing over Montenegro," Batrićević said, repeating his motto "Down with the traitors."
The Montenegrin anthem was sung at the gathering, with the crowd also chanting "Montenegro is eternal". A moment of silence was also held for the fallen who had fought for the law, justice and honour of Montenegro. Participants at the rally stated this was not a party, but rather a gathering of Montenegrin citizens.
Several patriotic organizations have previously appealed to all protesters to strictly adhere to the precautionary measures prescribed due to the coronavirus infection risk.
"The responsibility we have towards the state does not allow us to sit at home while the Government and its MPs are handing over our cultural treasures and our history to the Serbian Church and Serbia," the organizers said earlier.
SDP MP Draginja Stanković Vuksanović said that the amendments to the Law constitute a violation of the Montenegrin Constitution and occupy the state of Montenegro.
"We will not allow state-owned religious sights in Montenegro to be registered to another state; Serbia," said Stanković Vuksanović before proceeding to announce the amendments of the SDP.
"Our responsibility to protect public health obliges us to respect epidemiological measures; that is why today, with a sense of responsibly, by wearing a mask and maintaining physical distance, we are showing in civilized manner our distancing from those who forced us to defend our only homeland in such circumstances by selling Montenegro", the organizers announced.
Yesterday, Minister of Internal Affairs Sergej Sekulović appealed to the citizens to avoid mass gatherings, calling on them to "express their political views through forms that respect health measures." /ibna