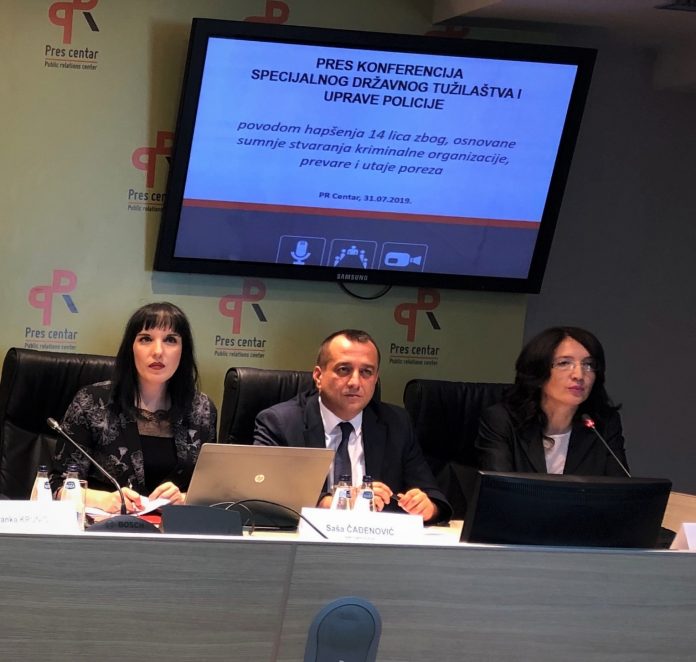 The Montenegro Special State Prosecutor's Office (SDT) has issued an order to extend the investigation into the case of terrorism in an attempt on a citizen of the United Kingdom and Israel, Aaron Shaviv, who is suspected of having committed the criminal offense of establishing a Criminal Organization.
According to Special Prosecutor Saša Čađenović, during an investigation launched against Joseph Assad and eight others suspected of establishing a criminal organization and attempting an act of terrorism, evidence indicating that Shaviv had also committed the similar offense emerged.
That is why, as stated by Čađenović, an order to expand the investigation was issued.
"Shaviv, was suspected of establishing a criminal organization in connection with the terrorist attempt on the day of parliamentary elections in 2006 in Montenegro", said Čađenović at the press conference.
He added that Shaviv allegedly paid more than €1.150.000 during the engagement in the campaign for parliamentary elections in Montenegro.
Collected evidence demonstrates that Shaviv accepted membership in the criminal organization that had planned to storm the Parliament of Montenegro.
"The Prosecutor's Office also believes that Shaviv agreed to work following the orders and instructions of the members of the criminal organization and to take money intended for the implementation of a criminal plan through legal entities he had established abroad. Unidentified perpetrators paid the money and then he sent the money to the other members of the organization. He was in charge of carrying out payments for the members' needs, and he was supposed to protect members of the criminal organization and their electronic transactions", explained the prosecutor.
Čađenović adds that there are suspicions that, since July 2016, Shaviv has received €1,565 million on the account of his company "D.C" founded in Cyprus. The Prosecutor's Office believes that a Czech company has paid the money.
"In addition, Shaviv is suspected of transferring €100.000 on the other company he owns, "S strategy and C," and €400.000 to Israel, based on a dividend", Čađenović added.
Shaviv has been carrying out other transactions using the account of a company in Cyprus.
From August to November 2016, Shaviv has paid enterprises in Belgrade and Slovakia over €350.000 for social networks advertising and creation of video spots. He paid Facebook over €155.000.
He is suspected of carrying out specific cash payments in the amount of over €22.000 on the territory of Montenegro./ibna