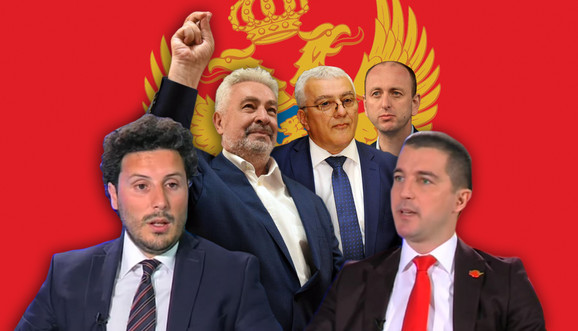 Representatives of the Montenegro coalitions that won the election are faced with the first major problem in their relationship, as yesterday's negotiations did not yield positive results.
Leaders of the Democratic Front, Andrija Mandić and Milan Knežević, and leader of the URA movement and the Black on White coalition, Dritan Abazović, on the meeting mediated by bishop Joanikije of Budimlja-Nikšić, concluded a marathon session without reaching an agreement. Dispute between the DF representatives and Abazović about the new government have even deepened, as DF found it unacceptable that some of its leaders will not take part in the new government, which URA movement sees a prerequisite for its participation in the government. Moreover, the two sides still haven't reached an agreement on the Law on religious freedom.
"The Democratic Front wants each side to propose its people for the new government, suggesting that an 'experts' government' is not necessary. The DF proposes a proportional representation method, i.e. everything must be aligned with the will of the citizens – the number of won seats of the bloc 'For the Future of Montenegro'", a source close to CdM told.
In addition, the DF doesn't want to give up on certain departments in the government, but stress that the international impact on the 'Black on White' coalition is huge, as they do not want the DF to take over the National Security Agency, ANB.
Even the influential Serbian Orthodox Church couldn't push the three coalitions to agree on the Law on religious freedom, keeping in mind that the coalition 'For the Future of Montenegro' wants Abazović to take a position in favour of its abolition.
Meanwhile, Abazović has been discussing this issue for days with the businessman, Miodrag Daka Davidović, and bishop Joanikije of Budmlja-Nikšić.
According to Pobjeda daily, it seems that the leader of the 'Black on White' coalition is under great pressure, as there is the Serbian Orthodox Church on one side and his party members, Božena Jelušić, Filip Adžić and Srđan Pavićević, who do not back the abolition of the law, on the other.
The leader of the block 'For the Future of Montenegro', Zdravko Krivokapić, has announced earlier that a special agreement on this matter was going to be concluded.
The leaders of the three coalitions that make up the new parliamentary majority, according to Dan daily, will meet today to discuss the programs and priorities of the future government, and how to form it./ibna