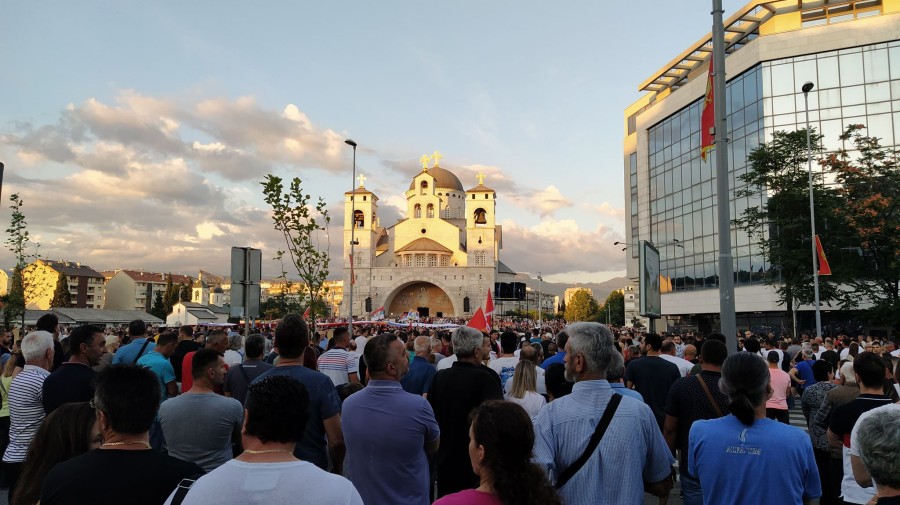 The priests of the Serbian Orthodox Church in Montenegro, Mirčeta Šljivančanin and Željko Čalić, were arrested for organizing processions in Podgorica and Danilovgrad. According to the police, more than 200 people participated in the processions, which is a violation of the measures of the National Coordination Body.
Last night, Šljivančanin, accompanied by a lawyer, went to the Security Center in Podgorica, where he gave a statement about the gathering. In front of the building of the Security Centre, he was supported by SOC priests. The priest Ćalić was detained last night at the Danilovgrad police station because of yesterday's procession in that city, the Church Municipality of Danilovgrad announced.
"Tonight, our father Željko was detained at the police station for holding a procession in Danilovgrad. A number of parishioners gathered in front of the police station to peacefully express their protest against this act", the Church Municipality of Danilovgrad wrote on its Facebook page yesterday.
Processions, organized against the adoption of the Law on Freedom of Religion, were held yesterday in several Montenegrin cities.
The Police Directorate has filed several criminal charges against those responsible for rallies attended by more than 200 people, in violation of the measures of the National Coordination Body.
However, according to Pobjeda, the basic state prosecutor's offices assessed that there were no elements of criminal responsibility for the reports.
As Pobjeda unofficially found out, the police estimated that there were slightly more than 5,000 citizens at the liturgy in Podgorica, between three and three and a half thousand in Nikšić, and about 500 supporters of the Serbian Orthodox Church in Pljevlja.
Gojko Perović, the rector of the Cetinje School of theology, said recently in an interview for Dan daily that "limiting public gatherings to up to 200 people is unlawful because you have either the epidemic or a state of emergency, which means that there are no mass public gatherings. If it is not like that, gatherings are allowed – and there are no limitations".
He assessed that such a measure had political connotations and represented a game of the people in power who wished to prohibit church protests. Perović sees the apprehension of a priest and Metropolitan Amfilohije, as well as other actions of the government towards the Church as unprincipled measures that undermined the authority of the government itself, and highlighted them as sources of instability and problems.
According to him, the Serbian Orthodox Church has been well aware that some of the government's measures were passed for political reasons./ibna