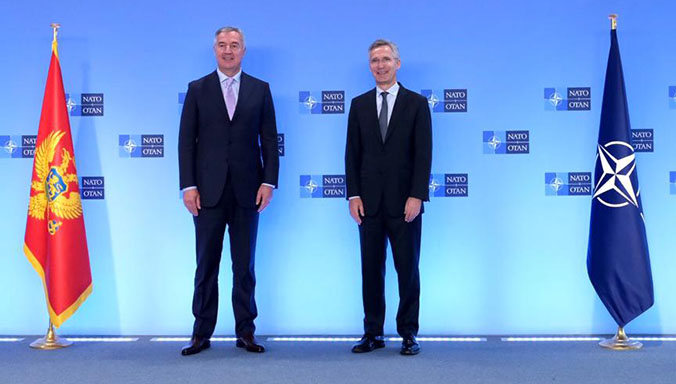 NATO Secretary-General Jens Stoltenberg welcomed the President of Montenegro Milo Đukanović at NATO Headquarters on Tuesday and congratulated him on the anniversary of his country's accession to the Alliance three years ago.
Stoltenberg noted that NATO membership has been good for Montenegro's security and prosperity and that investment by other Allies in Montenegro has more than doubled since the accession. He said that being part of NATO has also helped Montenegro through the COVID 19 pandemic, mentioning the support provided by Allies with airlift, medical supplies, financial assistance and other items.
Stressing that the security challenges that the Alliance faced before COVID-19 have not gone away, the NATO Secretary-General said that NATO will "continue to ensure this health crisis does not become a security crisis" and that NATO forces remain ready and vigilant.
"During this pandemic, both state and non-state actors have used disinformation and propaganda to try to undermine our Alliance and our democracies. In NATO we have worked together to identify, expose, and counter disinformation. Those who try to divide us will not succeed", Stoltenberg said.
The NATO Secretary-General stressed that Montenegro continues to be a highly valued Ally contributing to Euro-Atlantic security, including to NATO's KFOR peacekeeping mission in Kosovo, to the NATO multinational battlegroup in Latvia and to the NATO training mission in Afghanistan.
"Just as NATO can count on Montenegro, Montenegro can count on NATO. NATO air policing ensures your skies are safe, with jets from Italy and Greece. And through a Trust Fund, we are helping to destroy surplus ammunition in Montenegro", Stoltenberg pointed out.
The President of Montenegro, Milo Đukanović, expressed his satisfaction with the cooperation that preceded the membership, and especially the one in these three years.
"During that time, we studied very intensively, progressed and through participation in various activities, we confirmed that we are a member that contributes to peace and stability on a global level. This was shown through our participation in various missions, through the preparations for participation in the mission in Iraq and through all the other obligations, we undertook as a responsible member. Montenegro has also submitted a national plan that shows our firm determination to fulfil all obligations regarding the equal distribution of burdens", Đukanović pointed out.
The President of Montenegro pointed out that he supports the idea of keeping NATO's door open.
"The cause of all our problems is precisely the long absence of the societies of the Western Balkans beyond what are the achievements of the Euro-Atlantic community and European values. An example such as Montenegro is very favourable, we are glad that we are no longer the youngest member and that the circle of Euro-Atlantic security is expanding. We very much welcome the idea of keeping NATO's doors open for further expansion", Đukanović concluded./ibna