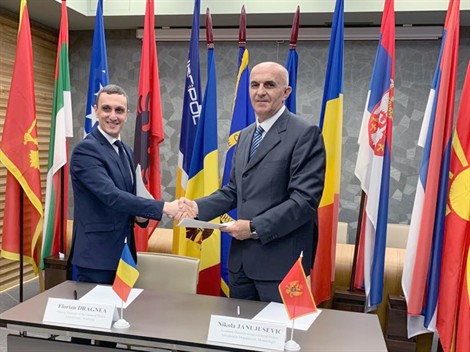 Assistant Director of the Montenegro Police Directorate, Nikola Janjušević, told the SEPCA General Assembly in Moldova that Montenegro was successful in the fight against organized crime and pointed out that the current practice of international police cooperation has confirmed that the response to contemporary security challenges and threats must be shared.
Janjušević represented the Montenegrin police at the General Assembly of SEPCA (Association of Police Chiefs of South Eastern Europe), which was held in Chisinau, Moldova, attended by the representatives of the police of the member countries of this regional initiative.
South East European Police Representatives have established the principles of the methodology for the development of the SEPCA Report on the Assessment of the Dangers of Severe and Organized Crime and agreed on concrete joint activities to curb organized crime with regional and international character, while special attention was devoted to the analysis of threats in the field of illegal trafficking and drug smuggling.
Janjušević stressed that the Montenegrin police achieved a significant level of professionalism, responsibility and excellence in the fight against all forms of crime, which was also confirmed by the results of targeted actions and conduct of operations, as well as participation in joint actions aimed at suppressing organized international crime. He added that "the Montenegrin police will continue to contribute decisively to the overall activities our country takes on a dynamic EU integration path". The activities of the Montenegrin police in the previous period, said Janjušević, concerned the efficient fight against organized crime and corruption at all levels, as well as the strengthening of regional police cooperation, which significantly influenced the quality and capacity of Montenegro police cooperation with police and enforcement agencies laws of the European Union, other countries and international partners.
"The effective fight and activities of our police in the coming period will continue to imply additional efforts to intensify police cooperation at the regional and international levels, which we believe will yield measurable results," Janjušević announced.
During the General Assembly of the SEPCA, Assistant Director of the Police Directorate, Nikola Janjušević, signed a Memorandum on the rules and conditions for performing tasks by Romanian police officers in Montenegro during the tourist season with the Deputy Inspector General of the Romanian Police, Florian Dragnea (Florian Dragnea). In addition to Romania, the Montenegrin police, in order to achieve more efficient international police cooperation, will host police officers from Italy, Croatia, Serbia, Albania and North Macedonia during this summer season. The police officers from these countries will work on a Montenegrin coast during the summer, and Montenegro police officers will follow the same principle of engagement on the Croatian coast./ibna