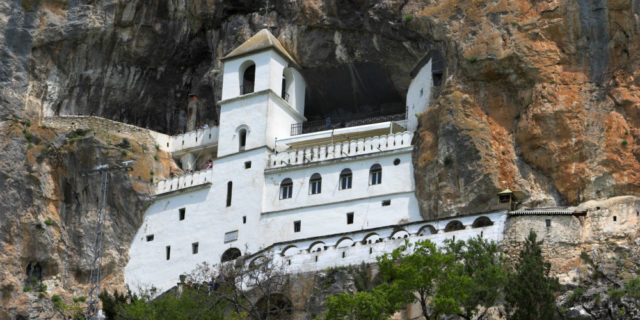 Montenegro Police prevented citizens from driving to the Ostrog Monastery, penalized them when entering and leaving the Church of Christ's Resurrection in Podgorica, while one of them was not allowed to enter the yard of the village church, claim citizens who complained to the Council for Civil Control of Police.
"Three citizens complained to the Council for Civil Control of Police Work about the actions of police officers in their intention to use their constitutional right to freedom of religion and expression of their religious beliefs. All complaints were taken into account and appropriate checks were initiated", the statement says.
As one complainant also has a video of the police's actions, the Council recommended that a meeting be held in Podgorica Police Department between the relevant officer, the citizen and Council member in charge of the case, in order to jointly review the recording in the possession of the citizen and provide all necessary clarifications in connection with the specific event.
They pointed out that they expect detailed information from the Police Directorate on the measures and actions taken.
The Metropolitan of Montenegro and the Littoral, Amfilohije, as a guest on the show "Internet Litija" last night, said that the Church would respect the recommendations of the National Coordination Body for Infectious Diseases (NCT) in the days of St. Basil's celebrations, but expects representatives of the authorities and the police to respect St. Basil.
"We do not neglect physical health; many of those who come to Ostrog receive healing from many physical weaknesses and diseases, but St. Basil also gives us spiritual healing, so I expect those who are able to come to kiss his holy relics, but adhering to all the recommendations. I also expect that the police will not prevent believers from coming to Ostrog", Amfilohije said, as reported by the Metropolitan's website.
The Metropolitan stated that yesterday afternoon, the police also stopped and returned the believers from the direction of Nikšić and from the direction of Danilovgrad, who went to pay homage to St. Basil.
Amfilohije previously said that he was expecting thousands of people on May 12 in the Ostrog monastery, on the day of the celebration of St. Basil of Ostrog, and assessed that the saint was "the best vaccine against many coronaviruses".
In Montenegro, measures to ban public gatherings due to the spread of coronavirus infection are still in force./ibna