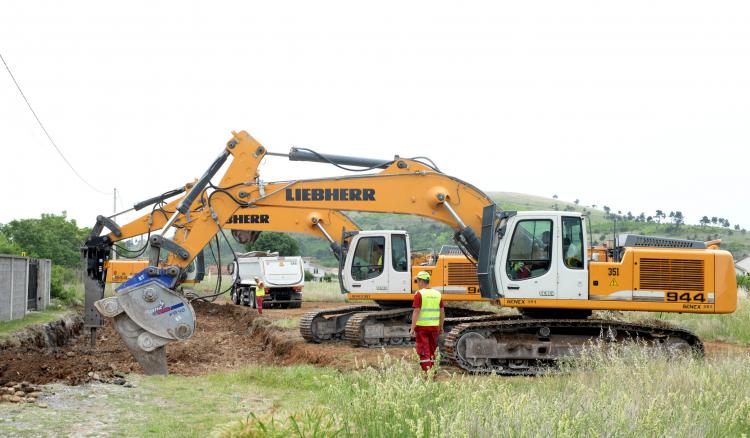 Podgorica has witnessed the launch of construction of the first component of the wastewater collection and treatment system, dubbed the project of the century as far as the capital of Montenegro is concerned. The project consists of four components – a primary collector over 5 kilometres long, whose construction was launched today, a 20-kilometre long sewerage network, whose construction starts as of tomorrow, a new bridge on the Morača River to be built in the next couple of months and the wastewater treatment plant itself, whose construction is scheduled for next year, according to local government announcements.
The entire project is worth 50m euros, with 10m euros donated by the European Union. Head of Delegation of the European Union to Montenegro Aivo Orav attended the ceremonial start of works, which he labelled as an important step forward for Montenegro in protecting the environment in line with standards of the European Union.
"And most importantly, this is a big thing for citizens of Podgorica", Orav said and added: "Roughly 75% of water pollution is caused by household wastewater, which is why it is extremely important to invest in proper collection and treatment of wastewater, both in order to protect citizens' health and to preserve the environment. This project is a sign of concrete and continuous support to Montenegro on its path to joining the European family. The project is also backed by EU member states, KFW Bank and local authorities and is a great example of international cooperation that is geared to benefit Montenegrin citizens. I wish you all success in the implementation of this project", Orav has concluded.
Mayor of Podgorica Ivan Vuković pointed out that this is a project of the century as far as the Capital City is concerned, as it paves the way to the long-term development of Podgorica and ensures permanent protection of the Morača River, groundwater and water supply sources in the Skadar Lake basin. He added that this is a complex engineering project that meets the latest environmental standards.
"We are especially proud of the fact that our partners from the European Union have recognized the importance of this project and awarded a grant of over 10 million euros for its implementation under the Western Balkans Investment Framework umbrella. Apart from our European partners, we are also grateful to KFW Bank for a 285,000 euro donation for conducting two studies that are an important part of the project documentation for the construction of this system," Vuković said.
The Government of Montenegro also backed the project of the century.
"The Capital City of Podgorica is continuously developing a healthier and better living environment, and the Government, for its part, will keep supporting this development in a way that matches the needs of our citizens," Prime Minister Duško Marković has said./ibna