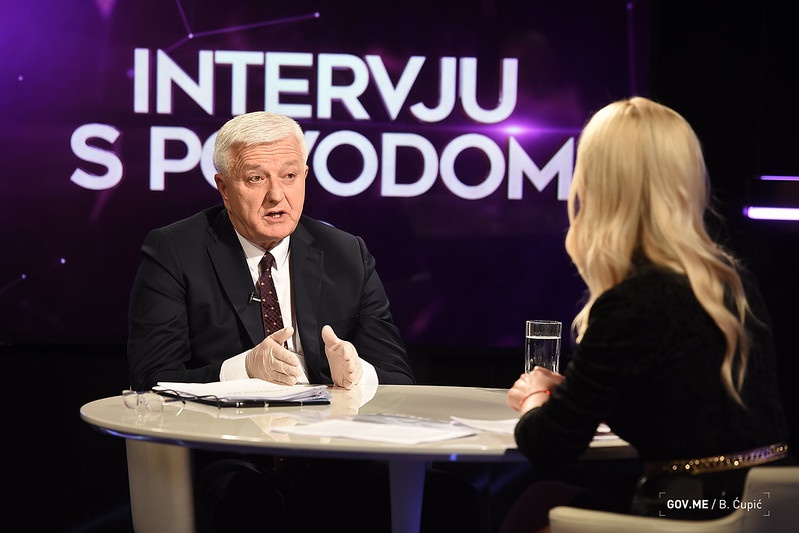 Montenegrin Prime Minister Duško Marković said that the coronavirus epidemic in Montenegro has been practically contained and that the battle in protecting the health and lives of citizens had been definitely won.
"I would say that we have successfully gotten to the other side of the most important stage in countering the coronavirus, which is protecting and defending the health of our people and the nation as a whole. For the tenth consecutive day in Montenegro, we have had a very small number of infected citizens; for four days now we have recorded zero outbreaks, while in the last ten days we only had three cases. We as politicians could say that the epidemic has been practically contained, but we will leave that conclusion to the epidemiologists", Marković said in an interview with TV Nova M on Sunday night.
He cited the timeliness of the measures as key parameters of the successful response to the pandemic, recalling that the Public Health Institute launched responses before the virus was even discovered in Europe, while also pointing to the responsibility exhibited by the institutions, the great expertise of their employees and the good coordination between all parts of the system.
The Prime Minister expressed satisfaction with the fact that, as all surveys conclude, 95 percent of citizens think of the Government's, the state institutions', and the National Coordination Body's work positively. He said that he regarded this situation as proof that Montenegro has high-quality institutions.
"This is proof that we have not lost any time since our independence was declared; that we have built institutions, and we have invested on elevating their potential and their degree of expertise", he said, adding that he was surprised by the potential demonstrated.
"There was a new, strong, unprecedented wave of social energy and solidarity. Citizens as individuals and their abilities have come to the fore", the Montenegro Prime Minister underlined, adding that Montenegro should be proud of its collective dynamic.
Marković urged citizens to continue to comply with the guidelines with discipline and responsibility starting Monday, when the relaxation of measures begins.
"We are returning to a normal life. Familiarize yourselves with every recommendation by the National Coordination Body. It is important that we follow the rules and procedures in the workplace and respect hygiene rules so that we are not forced to introduce new measures and re-instate the old ones", Marković stressed.
He announced that the Government would be adopting either a third package of economic measures or a comprehensive economic programme by the end of May.
The aim, Marković said, is to start production based on its own potentials and resources in the energy, agriculture, construction and IT sectors. With this bundle of measures, we will ensure that we save our companies, continue our economic activity, and allow for investments to continue while setting the ground for new ones to flourish. He added that a special stimulus package would be set up for the tourism industry. /ibna