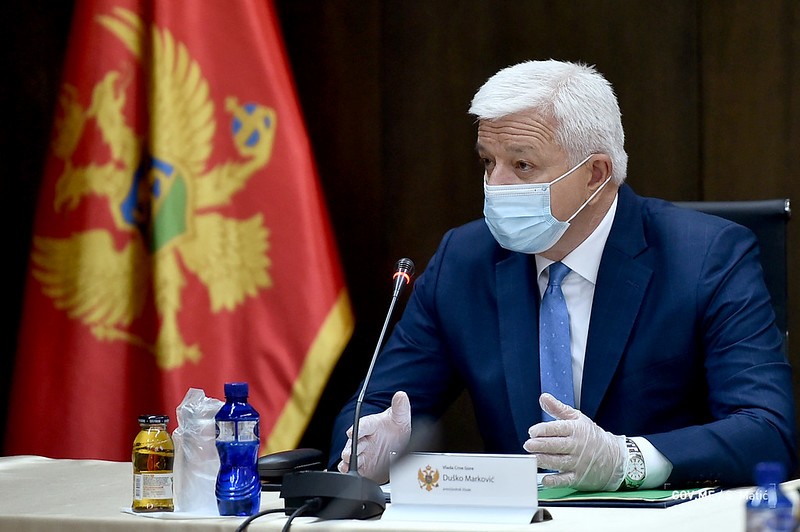 The Prime Minister of Montenegro, Duško Marković, presented to the public the second Government package of economic support measures for citizens and businesses that the Government adopted today, whose fiscal effect is EUR 71.4 million gross, or EUR 40 million net in three months.
The Prime Minister said the package includes:
– Business and employee support for thousands of entrepreneurs, micro, small and medium-sized enterprises employing more than 100,000 employees. The scope of support is very broad, and includes employees in closed and threatened industries, employees on paid leave, employees in quarantine and self-isolation, up to subsidies for new employment
– Exemption from the fixed part of the electricity bill for the months of April, May and June – which will not be charged to users in the areas of the economy that are closed;
– In addition, the strengthening of financial support instruments with the Investment and Development Fund, and the suspension of certain compulsory payments in favor of the budget;
– A specific program to support agriculture and fisheries, which is only part of a broader package, which creates the conditions for production and growth through the engagement of all creative, production and processing resources;
– In the field of taxes and customs – shortening of VAT refund deadlines, extending the limit of the customs guarantee for payment of customs debt. "In addition, we are intervening in the area of wages by reducing the salaries of officials in categories A and B of the Public Sector Employee Benefits Act. I would like to point out that these are the employees with the highest salaries in public administration!", explained the Prime Minister.
– New measures in the field of social benefits, on the basis of which financial assistance to unemployed persons and another category of pensioners, who were not covered through the first package of assistance measures will be paid. In the part of the most vulnerable categories, the Electricity Company will give additional subsidies to those users who are already recognized as the poorest, where the subsidies will double.
Prime Minister Duško Marković said all social and individual potential had been called in to combat the pandemic. "In the continuation, with the same strength and motivation, we will continue to work to preserve our economy and your standard of living. It will be difficult, the most difficult in the last 50 years, but I assure you that there is no retreat and surrender to preserve your standard, your civic dignity, security for you.
We will fight for every job and for our domestic economic wit and potential. This will last, there will be difficult and dramatic moments, but I believe this is a chance for us, for a new and creative Montenegro. Even stronger, and even more economically resilient. That is why I regret that the last two days in Parliament our opposition did not welcome and applaud our heroes who are protecting our health and lives. Because it is a real victory that gives us new opportunities. And we will present these new opportunities in two weeks", Marković said./bal