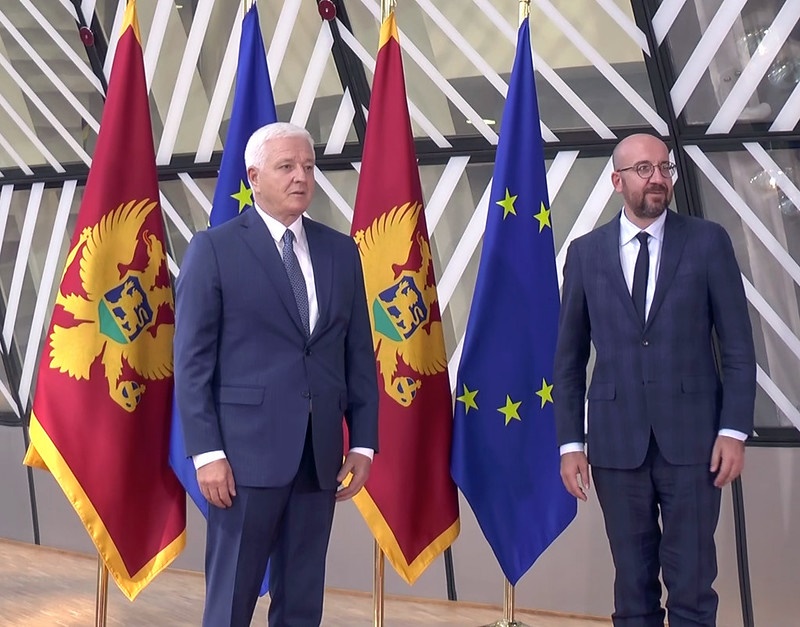 Montenegrin Prime Minister Duško Marković assessed yesterday's visit to Brussels and talks with top EU officials as successful.
"Montenegro's European perspective is quite certain. Strong messages were sent about this perspective and about the expectations that Montenegro will strongly continue its European integration, that it will respond to the current challenges and needs in that process, primarily in the field of strengthening the rule of law, which includes further judicial reform, fight against crime and corruption and of course the issue of media freedoms. And we talked a lot about how to provide not only Montenegro but the entire Western Balkans with a certain economic perspective, especially in the context of the consequences caused by the coronavirus," the Prime Minister told RTCG at the end of his visit.
Marković talked with President of the European Council Charles Michel about the next, most challenging phase of accession negotiations.
President Michel congratulated Montenegro on the opening of the last remaining negotiating chapter, noting that country is a leader in the accession process. The President of the European Council said that Montenegro can count on the help and support of the Union and added that the EU has a clear interest in the stability and progress of Montenegro and the region.
President of the European Parliament David Sassoli pointed out that Montenegro appreciates the fact that the European Parliament is ready to observe the upcoming elections. "We will do everything to ensure that they take place in a safe manner for the health of the citizens. An active Parliament plays a key role in the European process".
Prime Minister Marković and Vice President of the European Commission and High Representative for Foreign Affairs of the European Union Josep Borrell underlined the strategic importance the region has for the EU. Resolving open issues for the Western Balkans is a guarantee of its long-term economic development and stability and a precondition for dynamic integration into the Union. This meeting also noted Montenegro's excellent progress on its path to the European Union.
At the meeting with the Prime Minister of Montenegro, EU Commissioner for Neighbourhood Policy and Enlargement Negotiations Olivér Várhelyi welcomed the decision of the country to accept the new methodology of negotiations. It is now crucial to further strengthen the results in Chapters 23 and 24 in order to meet the provisional and final criteria.
It was stated that the investment plan for the Western Balkans, which the EU is preparing for autumn, will be of great importance in the development of the region and the recovery of the economy from the consequences of the coronavirus pandemic.
At the end of his visit to the EU institutions, Prime Minister Duško Marković said that the preparation of an economic investment plan for the Western Balkans was encouraging.
"It will be worth tens of billions of euro. Montenegro is invited to offer its projects related to infrastructure, energy, transport, digital economy, renewable energy sources. We are in a position to have such projects on a single investment list and quickly offer them to the European Commission. I believe that they will be positively evaluated and that we will receive the necessary funds", said the Prime Minister of Montenegro at the end of his visit to the EU institutions./ibna