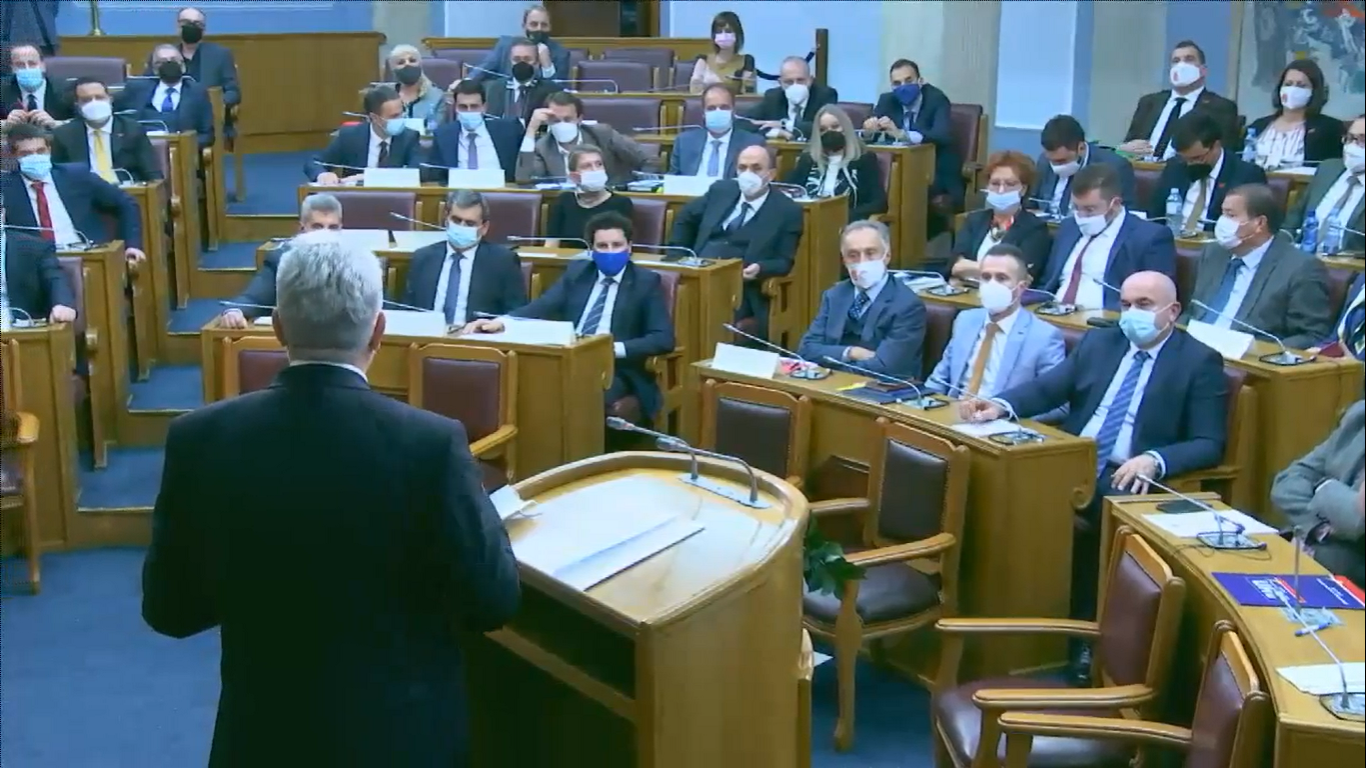 After 41 votes in favor, 28 against and one abstention, the Montenegrin Parliament elected its new government.
The new administration, formed by three coalitions, will comprise 12 ministries headed by a person rather unknown to the majority of the public, with Zdravko Krivokapić as Prime Minister.
Sergej Sekulović, a lawyer, civil activist and political analyst, was elected Minister of the Interior. He served as an advisor to the Government of Electoral Confidence that preceded the 2016 parliamentary elections. He was previously a member of the Movement for Changes of Nebojša Medojević and an advisor to former Montenegrin Parliament Speaker Ranko Krivokapić (SDP).
Olivera Injac, a security lecturer at the private University of Donja Gorica, was elected Minister of Defence. She has attended a series of forums on the topic of Montenegro's membership in the NATO alliance.
The Minister of Justice and Minority Rights will be lawyer Vladimir Leposavić, known to the general public as the legal representative of the Metropolitanate of Montenegro-Littoral of the Serbian Orthodox Church and a member of the legal delegation that previously worked on repealing the Law on Freedom of Religion.
Đorđe Radulović was elected Minister of Foreign Affairs after serving in the Ministry since 2011. He was the Chargé d'Affaires in the bilateral department and the deputy Montenegrin ambassador to Romania.
The Minister of Finance and Social Welfare will be Milojko Spajić, a savant in financial engineering who operated abroad for ten years and served as a member of Zdravko Krivokapić's advisory team upon return to Montenegro.
Jakov Milatović, who holds a Master's degree in economics from the University of Oxford after receiving a scholarship by the British government, was elected Minister of Economic Development.
Minister of Capital Investments Mladen Bojanić is a former presidential candidate of the opposition. He is an expert in economics and the stock market.
Vesna Bratić was elected Minister of Education, Science, Culture and Sports, a Ministry embodying the most controversial choice by Prime Minister-designate Zdravko Krivokapić following his decision to merge four topics into one department.
Dr. Jelena Borovinić Bojović was elected Minister of Health, while Tamara Srzentić, who completed her studies in the United States and has worked in European countries, was elected Minister of Public Administration, Digital Society and Media.
The Ministry of Ecology, Spatial Planning and Urbanism will be headed by Ratko Mitrović, a university professor of architecture.
Finally, Aleksandar Stijović, who works at the Institute of Forestry of Montenegro, was elected Minister of Agriculture, Forestry and Water Management. /ibna