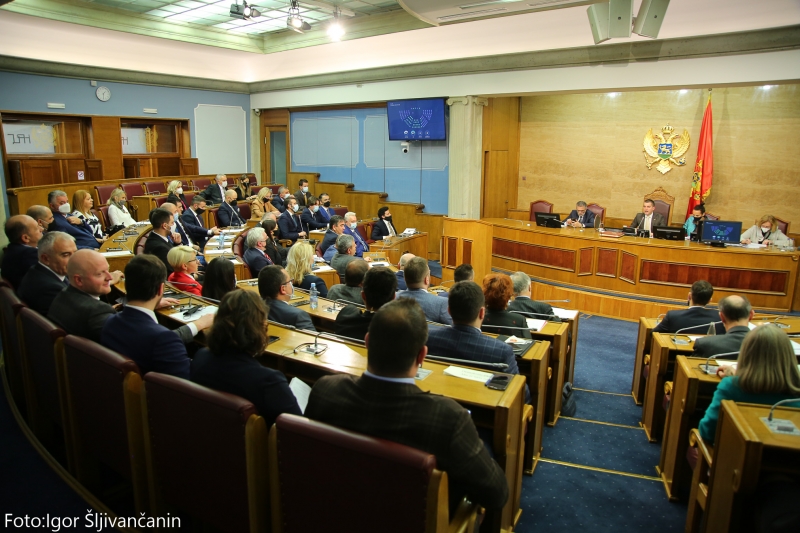 On Thursday evening, the Parliament of Montenegro adopted the Draft Resolution on the genocide in Srebrenica and dismissed the Minister of Justice, Human and Minority Rights, Vladimir Leposavić, who denied in his statements that genocide took place in this small town in BiH.
One of the leaders of the Democratic Front, Milan Knežević, said on Friday that even before the vote, the deputies of this coalition told Prime Minister Zdravko Krivokapić that, if the resolution on Srebrenica and the removal of Minister Vladimir Leposavić are passed together with the DPS, he will no longer have DF support, and that he will no longer be formally considered prime minister.
DF deputies left the parliament after the vote, and Knežević told his coalition partners, Aleksa Bečić and Dritan Abazović, to give up making an agreement with the opposition party, Milo Đukanović's DPS and show readiness to return to the original and electoral program principles of the coalition in order to open the possibility of renewing relations.
Knežević also emphasized that the legitimacy of the president of the assembly, Aleksa Bečić, was also questioned, since his party, together with the DPS, voted for the resolution.
He did not want to speculate about the possible successors of Krivokapić, but said that a large number of deputies would perform the function of prime minister with honour and responsibility.
"If there is no agreement, the logical path is new elections organized by the transitional government, which would be the last proposal of the DF," Knežević concluded, adding that he apologized to the Serbian people because Parliament adopted the Resolution and was "ashamed of such a decision by Parliament."
In favour of the adoption voted 55 deputies, 19 were against and seven abstained.
MPs Ervin Ibrahimović, Dragutin Papović, Damir Šehović, Raško Konjević, Genci Nimanbegu, Fatmir Đeka and Andrija Popović, submitted the motion for a Resolution.
The Resolution, among other things, implies that the parliament condemns and acknowledges that genocide took place in Srebrenica and that more than eight thousand Bosniaks were killed.
The text of the resolution also envisages that July 11 will be declared the Day of Remembrance for the victims of Srebrenica, that peace and stability will be affirmed and that public institutions will be invited to investigate war crimes.