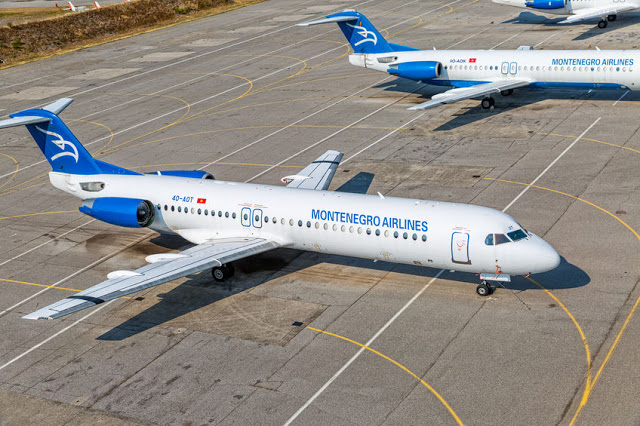 The Montenegrin government has received over 500 proposals for the visual identity of its new national carrier after calling upon the general public for suggestions and providing an e-mail address for those interested to pitch their ideas. The proposals range from the logo and design of the livery, to name suggestions and business pitches.
The Montenegrin government has registered a new national airline under the working title "ToMontenegro" to replace its over indebted national carrier Montenegro Airlines, which ceased operations on December 25 of last year. "Over 500 proposals with the name, logo and design have been submitted so far at [email protected] I expect even more suggestions in the coming period. Thank you to everyone and thank you for believing in new beginnings", Montenegro's Finance Minister, Milojko Spajić, said.
The exyuaviation.com wrote that the Montenegrin government has vowed to set up a new flag carrier as soon as possible but conceded the process may take several months, as the new company has not been established as a successor to Montenegro Airlines, whose accounts are blocked and is in debt in excess of 100 million euros. However, the clock is ticking, with much of the former carrier's crew having time limitations on the validity of their permits, while departure and arrival slots at European airports will also be lost. Furthermore, Montenegro Airlines has one Embraer 195 jet on financial lease. The first of two annual lease payments to the Brazilian Development Bank, amounting to 1.8 million euros, is due within weeks. If the two payments are made, Montenegro Airlines will officially become the aircraft's owner this year.
As time continues to pass, foreign carriers are also ramping up their operations to Montenegro or entering the market for the first time. Montenegro Airlines had no competition on three year-round services out of Podgorica. Among them, Paris was the busiest with 42.894 passengers handled in 2019. The route was code shared by Air France. It was followed by Zurich with 28.294 travellers and Frankfurt with 27.596 passengers. Swiss carrier Chair Airlines has announced it will commence operations to Podgorica on April 1, to cover the void left by the Montenegrin carrier. This month, Air Serbia is Montenegro's busiest airline, operating 130 flights to and from the country (both directions included) with 12.468 seats on sale. /ibna
Source: exyuaviation.com