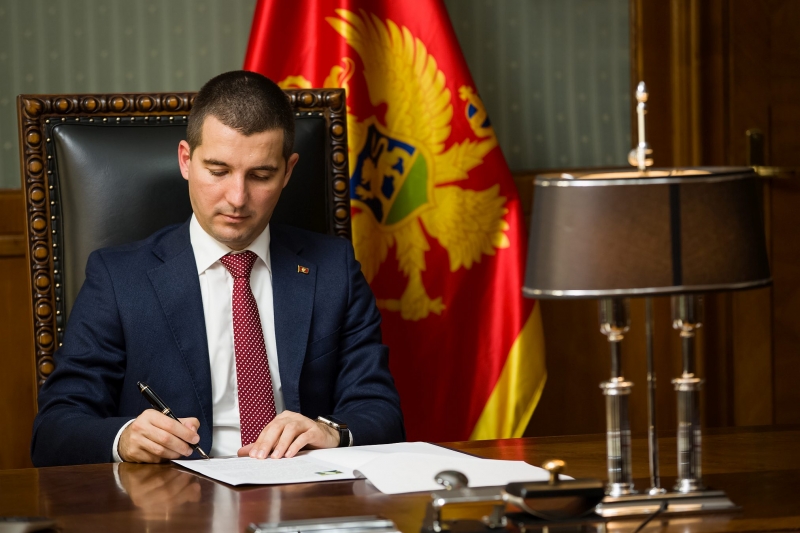 The President of the Parliament of Montenegro Aleksa Bečić attended the online conference "Balkan Forum against Anti-Semitism", organized by the Parliament of the Republic of Albania in partnership with the Movement against Anti-Semitism and the Jewish Agency for Israel.
Taking the virtual floor, Bečić said that this regional conference represented an ideal opportunity to discuss this important topic, stating that dialogue is the civilizational heritage of the modern world, which grew on the foundations of European humanism.
"I especially pay tribute to the Republic of Albania, which has brought up this important issue, thus initiating political support for these activities at the parliamentary level in national and international contexts, together with other countries in the region". "Harmony, peace and solidarity embody the fundamental values ​​upon which our societies are cemented, and it is all of our duty to nurture and ameliorate them", Bečić pointed out.
The President of the Montenegrin Parliament said that the state of Montenegro, which inherits anti-fascism as a legacy, proudly preserves its libertarian tradition.
"Our country was recognized around the world for its anti-fascism, as well as for the unique, nationwide July 13 uprising, as the first country to offer resistance in the then enslaved Europe", Bečić argued.
He pointed out that Montenegro, as a multi-ethnic, multi-religious and multi-confessional community, is resolutely taking the anti-fascist path in the 21st century, towards European and Euro-Atlantic integration, respecting, as he added, the richness of diversity that makes the country recognizable in Europe and the world.
As he claimed, these universal values ​​and achievements of anti-fascism form today's Montenegro, a respectable member of NATO, a future member of the EU and a significant pillar of regional stability.
US Secretary of State Michael R. Pompeo and European Parliament President David Sassoli, among others, addressed the Conference.
Albanian Prime Minister Edi Rama, Albanian Parliament Speaker Gramoz Ruci, Kosovar Assembly Speaker Vjosa Osmani, North Macedonian Parliament Speaker Talat Xhaferi, Israeli Parliament Speaker Jariv Levin, numerous senior officials and activists in the global fight against anti-Semitism, also attended the forum. /ibna