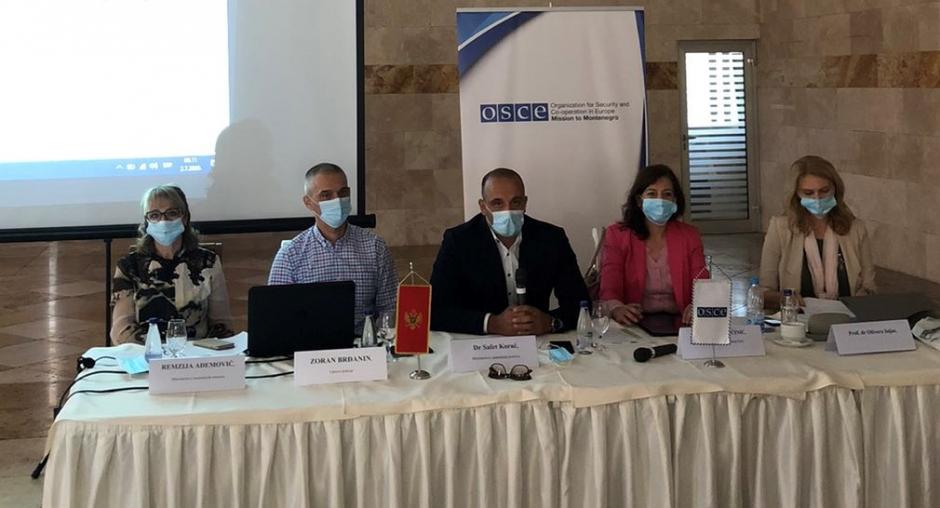 To support the drafting of the new 2021-2024 Police Development Strategy and the 2021-2022 Action Plan, on 2 and 3 July 2020 in Bečići, the OSCE Mission to Montenegro facilitated a series of four working sessions, with 38 officials of the Interior Ministry and Police Directorate, to develop these strategic documents, as announced by the OSCE Mission to Montenegro.
Safet Korać, General Director for Strategic Development Affairs in the Ministry, outlined the importance of the Strategy for the work of the police. "The goal of the Strategy is to provide solutions to the problems the Police face on a daily basis, and to improve the working conditions. This workshop will significantly contribute to the drafting process", said Korać.
Zoran Brđanin, Chief Police Inspector, said that both the management and the police officers are dedicated to reforming the Montenegrin police. "To continue with the process, a strategic framework is needed to determine the direction for the further development of the Police Directorate". Brđanin added that, with support from the OSCE Mission and the Centre for Integrity in the Defense Sector, alongside the involvement of the Police and Ministry, this methodological approach would guarantee a quality, realistic, applicable, but also verifiable strategic document.
Dragica Vučinić, the Mission's National Security and Co-operation Officer, noted that the OSCE supported the Ministry and Police to develop and implement the 2016-2020 Police Strategy 2016-2020. "The Mission will continue to provide technical expertise to develop a new set of strategic documents for the next four years, by ensuring local ownership and the sustainability of efforts", said Vučinić.
OSCE expert Olivera Injac presented the Situation Analysis report to help identify Police strategic goals to 2024.
The OSCE Mission to Montenegro remains committed to supporting national partners to effectively and responsibly secure society within a framework of democratic, civilian control, the rule of law and respect for human rights. The workshop was held in line with the OSCE and the government's prescribed COVID-19 safety and security measures. /ibna