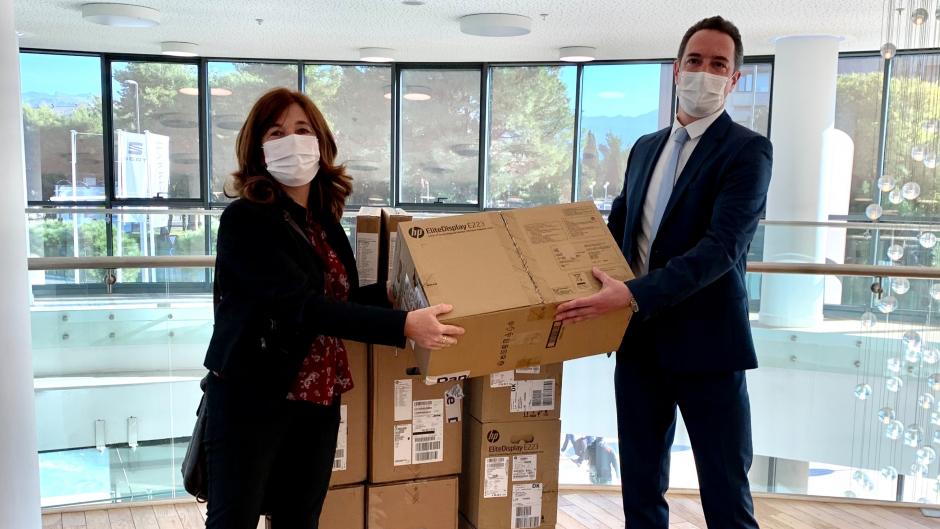 The OSCE Mission to Montenegro delivered a set of desktop computers with additional equipment to the media outlet Portal Analitika in Podgorica. This was only a part of the donation planned, with a second tranche to be delivered when the epidemiological situation in the country will allow, the OSCE Mission to Montenegro announced in a press release.
This initiative was implemented in the context of the Mission's efforts to strengthen private media in Montenegro and contribute to their further professionalization and adaption to the challenges of digitalization.
"In a rapidly digitalizing world, it is of the utmost importance for journalists to keep up with the latest technological trends, and further improve their journalistic work through the use of digital tools in order to provide the public with high quality content", Maryse Daviet, Head of the OSCE Mission to Montenegro stated.
She underlined that myriads of media formats can be found and, in order for media houses to stay competitive, they need technological tools to produce relevant and reliable information. "The Mission supports private and public service media in Montenegro in their efforts to stay competitive and sustainable", said Daviet.
Tinka Đuranović, Executive Director of Portal Analitika, expressed her gratitude for the donation and described it as extremely important and useful for the editorial office. "Computers with a quality configuration will enable journalists and editors to use more advanced platforms and services for creating and placing visual content", said Đuranović.
The challenges permeating working conditions as a result of the COVID-19 pandemic further highlight the importance of using new platforms and upgrading technical equipment. The Mission remains committed to supporting media professionalization in Montenegro. /ibna